John Craigie's New Album "October is The Kindest Month" is a Work of Art from Beginning To End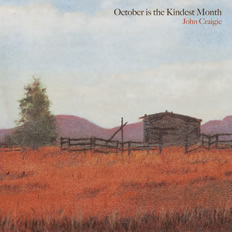 John Craigie is doing everything right these days, producing albums, playing to large audiences and touring the country all year long. 
Craigie is one of those "musicians of the road" who is always traveling, logging the miles and leaving lasting impressions in every city he visits. This existence is crucial for aspiring folk singers who want widespread attention and acknowledgement for their art.  Like his predecessors before him, Arlo Guthrie, Bob Dylan and Greg Brown, Craigie has his story to tell as well.
Craigie is currently touring in support of his new album, October is the Kindest Month and this one is a masterpiece.  For the 11 song production, Craigie brought together some of the best musicians including Zach Gill on keys (ALO), Steve Adams on bass (ALO), Randy Schwartz on drums (Brett Dennen) and Daniel Wright on nylon string guitar, melodica, bells and percussion.  Also, Mateo Lugo on electric guitar and percussion, Shaina Evonick  on violin, Lane Exworthy on cello, Joey Goforth on banjo, Taylor Brown on lapsteel, Max Ribner on trumpet, The Shook Twins and Holly McGarry on vocals.
Craigie's previous album Montana Tale is one of my favorites and clearly a desert island compilation that can be played over and over again without ever getting stale.  There's no question that Craigie pours his heart and soul into every song he crafts with the maturity and grace of a professional folk singer.
Listening to October Is The Kindest Month for the first time was inspiring. The song All of July begins delicately with John's guitar and harmonica leading the way while the lyrics present a vulnerable and humble individual questioning his place in the world.  I hear elements of self reflection and innocence in which the music becomes John's saving grace.  From the start, the listener knows this album is going to be uplifting and heartfelt.
The second track Breaking Down changes pace and becomes a bluesy, rag-time song with insightful lyrics.  John's possessions are "on the verge of breaking down" and it shows the type of existence he encounters from day to day.  It's refreshing to hear John take a different direction in his music, away from the traditional folk song he usually does.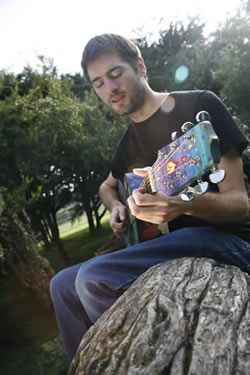 Boston in November is a work of art and should be played on every radio station in America.  This track is a beautiful lullaby with upbeat rhythm and crashing symbols in the background.  John is able to create images and magical poetry through his thoughts.
Black Swan is another ballad in which John sways from tradition, but this time very reminiscent of Tom Waits or Wilco.  The bird metaphor is perfect here and John embraces the journey through this song.  At times, his emotion is melancholy, but the listener understands the positivity that John is searching for.  Violin, symbols, guitar and tambourine guide us through this meandering eloquence.
In the song Washed Off With The Rain John recounts a past experience about a woman he'd like to see.  Despite John's travels, he sings to her and wonders if they would ever meet again in life or in their dreams.  Zach Gill's piano is wrapped around John's voice and following him like a shadow.
So Many Lives begins with a Hawaiian Slack Key rhythm, but then the song gets bigger and bounces along like a Sunday morning cartoon.  Halfway in the rest of the musicians come in strong with perfect backup vocals responding to Craigie's lead.  Zach Gill takes a short piano solo while Schwartz's drums motor along like a parade march.
Chapel Hill is upbeat and fun.  It's hard not to dance when listening to this song and Craigie's vocals are spot on.  At this point in the album, he's settled into the groove and simply going through the motions while the music plays the band.
Craigie's harmonica screams with emotion and lends a voice to this song. Schwartz's drums are perfectly executed with amazing snare-drum work.  Goforth's banjo playing is subtle, but beautiful and just the right touch.
Dog Eyed Girl is as pretty as an ocean sunset with honest lyrics and a great hook – "And Your Chorus Was/That Old Familiar Phrase/The Road Giveth and The Road Taketh Away".  It's obvious that Craigie has a million stories to tell from traveling and this song says it all.
Halloween Sunset is melodic with hints of the Blues.  In many songs, Craigie is out on a limb by himself with the rest of the musicians waiting close by until the song is ready to bring them in.  Craigie's direction and leadership skills are professional and it's clear that he knows exactly what he wants in every song.
Ah Rejoicing is only 50 seconds in length and a short interlude which sets up the next track Banjo Renews.  This is one of those front porch songs and my favorite so far.  We have learned a lot about Craigie and his life as a musician and free spirit.  Craigie calls to a higher power in this track and the angels answer his prayers.  This song is simple, it's filled with grace and builds with emotion until the full band is soaring along.  Listen to this song before you start each day and greatness is sure to follow.  Craigie says, "Life Comes From Every Angle/When You Let Go of Your Worries/Mama, Let Go". 
Craigie has a long road ahead of him and he knows it.  But, audiences are enjoying his shows and someone is bound to notice this "diamond in the rough".  Craigie has his goals in sight, has clear direction for his life and is guided by those around him.
Jambandfriendly.com caught up with Craigie again at The Rio Theater in Santa Cruz while he was opening for Paul Thorn.  It was nice to see the two musicians together after Thorn had been in Craigie's shoes many years before.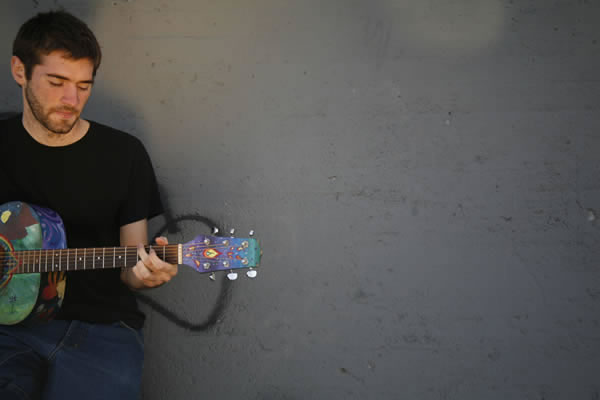 There's no doubt that Craigie will be climbing the ladder of success in the coming years and it seems he's already arrived at the gates of stardom.  His album October Is The Kindest Month is sure to please and has my vote for album of the year.
Interview with John Craigie at The Rio Theater August 20th 2011
The new album sounds incredible, what was the process like for that?
The album has a similar team as Montana Tale, but I pulled together players that I wanted even more than the first time.  So, we have Randy Schwartz on drums, Zach Gill on keys, Steve Adams on bass and a host of other great musicians.  We went to Randy's father's house, built a studio and took over the whole place.  Randy was in the living room playing drums, I was in the bedroom playing my guitar with Steve playing bass right next to Randy.  We did everything live and then overdubbed all the smaller stuff later on.
The last song on the album, "Banjo Renews" resonated well with me.
I was really sick with a high fever in the town of Ukiah.  At the time, it was winter so the wood stove was hot and a leak was dripping water onto it.  Every time the drop would hit there would be a sizzle.  It was bothering me and ringing in my head, so I got a small pot to catch the water.  Ironically, at the same time, I wanted hot tea because I was sick and just made it out of the hot water on the stove; which probably wasn't such a bright idea.  In the chaos of the day, I grabbed the banjo and started playing.
Montana Tale had been out for a little while and I had been touring extensively that year.  The line My God Was My Audience sums up everything I was feeling at the time.  Whether it was my record label, my Astrovan or my support system, they were the ones I was doing it for.  I was realizing how important they were and how they were taking care of me.  Amongst my fever and dreams, that's what was coming out.
It's been about a year since we last spoke. How have you grown personally over that time?
I have more confidence in myself, especially working with local promoters like Sleepy John and guys around the country like him.  I feel a little more confident stepping onstage and as a result there are better opportunities coming my way.  I have played in bigger spaces like The Kuumbwa Jazz Center here in Santa  Cruz and now The Rio Theater tonight.  All the songs are flowing better; this last album went a lot smoother than the last.  Montana Tale was a great album and experience, but a little tough getting things going.  This one was much tighter, right on point and everyone was on the ball.
In 2012, what's the plan? What are you thinking about for the coming year?
There will definitely be another album of course.  My friend Patrick Cooper just moved to New Orleans and I have been visiting him intermittently.  I have been enjoying the music down there and have an idea to combine that vibe with the "Craigie Folk".  For now, it's about a four month tour to promote the album which will take us through 2011.  Once the New Year hits, I'll go back on the road hitting the same towns, pleasing the old fans and hopefully making some new ones.
Tonight you are playing to a large audience at The Rio Theater.  You must be in a different head space as opposed to performing for 25 people.
It's an honor to be here, but, I do believe that it's the same performance – whether 25 or 2000, I look at it similarly.  This is a special night for me because when I was growing up here in Santa Cruz, I saw some of my heroes like Greg Brown and Arlo Guthrie here.  To be in that seat where they performed means a lot to me.  Sleepy John always gets great crowds and I'm looking forward to a great night.  But, every performance is the same and has the same mission – to please those that are there with old songs and new ones.  I am really excited.
For more of John Craigie, Check out:  http://www.johncraigiemusic.com/
To purchase October Is The Kindest Month:  http://www.itunes.com/johncraigie