Ron Tomasello: Sharing in the Good Life!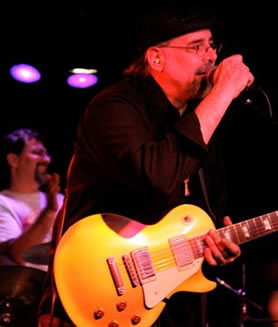 If anyone has been to a Good Life Rhythm and Blues Revue show over the last 10 years, then they know that Ron Tomasello is one of the greatest guitarists around.
Flat out, hands down, without question. There are countless players all over the bay area slugging it out and vying for the top of that list. But only a few can measure up to a level of excellence that is marked by professionalism and experience like Ron. Many in the industry who have seen Ron and the band onstage know the caliber in which he plays; whether on lead, slide, rhythm or blues Ron Tomasello is at the top of my list for 'Guitar Greats' on the west coast.
At the core of GLRBR is a sound reminiscent of the early Allman Brothers Band. Good Life excels at producing a sound that is raw and experimental with soaring melodies, eloquent harmonies and open ended jams . According to the bands website, "The Goodlife Rhythm & Blues Revue is an improvisational American roots band that is steeped in Blues, early R&B, Gospel and Jazz. The bands originals and obscure cover tunes gives this ensemble and the audience a classic approach to 'Live' music". I had the honor of playing with GLRBR for a year and was thrust into a world with high demand for delivering a consistent, professional show every time. I looked forward to the challenge and always loved playing songs like Maryanne, Your Friend, Midnight Train and Stranger Blues, all tunes that tell stories and keep you dancing all night long.
In this lineup, Ron has with him a band that has more years in the industry combined to rival any veterans out there. Danny Thomas on C3 Organ and Piano is a Grammy Winning Keyboardist who toured with the band Con Funk Shun, a very popular R&B & funk band in the 1970s and 1980s, with numerous hit records including "Ffun" and "With A Bullet". Bill Ward is back to fill the bass section of the band and is also an integral part of the San Francisco Bay area Jamscene. Not only does Bill play electric bass with Good Life but also handles lighting, sound and ambiance for several acts out of San Francisco. Picking up the other spot in the rhythm section is Kris DiNoto on drums, who is a solid chops drummer with talent & strength and loves to hit hard. Chris also plays in 7 Come 11, a Bay area based Organ Trio that is making their mark in history playing around the west coast. Good Life also has the honor sometimes of having Jeff "Hawkeye" Sanders on Guitar and Vocals who happens to be a founding member of the band.
On a Friday night at the end of August, I caught up with Ron at Henflings Tavern in Ben Lomond, California. On the back deck of this well known biker bar and live music joint we spoke for a few minutes about where Ron has arrived musically in this part of his life. That night was a chance for me to see 'Good Life' from the audience and not the drum seat. What I found was a band that definitely wanted to be heard more on a national level, an experienced group of guys who take music seriously and players who aren't afraid to take risks onstage.
Henflings Tavern, 9pm At Sound Check before the show…
Ron, for those Jambandfriendly folks who don't know GLRBR, what is the sound and theory behind it? What can people expect to hear from a live show?
What we try to do is play the roots of the music that I love which is all of American music. This includes latin, blues, jazz, country, new orleans based music and Americana. In essence, the backroads of America is what I like to call it and what we do best.
How many years has GLRBR been playing?
Well, we really started in 1993 but we were just playing local gigs with friends who got together. And it grew from there with Jeff Sanders and I putting it together.
Please tell us how the involvement with the Allman Brothers website "Hittin the Web" got started? How did that pairing come to fruition?
Well I was a member of their website and posting there. Some people found out that I played, asked for cd's and then they started trading the cd's amongst each other. The folks who run the site heard about me and I was inquiring about how to make a website sort of similar to theirs and they asked if I wanted to have a site with them. They liked the music and they thought it was something they wanted to promote and knowing how much I loved the Allman Brothers. They were the sole band that made me want to become a professional musician; and made me discover blues. Them and The Grateful Dead & Little Feat really guided me thru the different American roots styles of music and shaped me as an individual.
How do you think Good Life has changed over the years musically?
It has evolved many times because of the constant rotating members that we have had. At first it started as a straight up blues band and then Jeff and I started adding our own songs to it. These were from other bands I had earlier that are still a part of the mix like Full Moon Cruz which is the first real song I wrote that became something. So every time we bring new people aboard or someone sits in, it evolves and changes. It's a little cauldron of music that constantly ebbs and flows.
Where do you see yourself in ten years or are you not really looking that far?
I never look that far because I have no idea what's going to happen. I just hope for good health and luck and that I can continue to play and hopefully people will catch on to what we do and will like what we do. When we leave town and go play out we are really well received but there are difficulties being at the club level with pay and typical hardships of the road.
In looking back then, what has been the high point of your life musically?
I have had a lot of them, cause I have opened up for so many national acts, been onstage with John Lee Hooker, played with Grammy Winner Larry Davis who wrote Texas Flood that Stevie Ray Vahn made a hit out of; and I opened for The Neville Brothers, NRBQ and The Thunderbirds. Sometimes I can't even remember but I have had a lot of good stuff happen to me that's for sure.
If you could choose who would be in your all star band, anyone alive or dead who would that be?
Derek Trucks on guitar, Chuck Leavelle on Piano, Butch & Jaimoe on drums and Berry Oakley on bass. Chuck Leavelle I think is one of the greatest rock and roll piano players of our time, he was 19 years old when he played that solo on Jessica. For music & theory, the late Charles "Gus" Gustavson, I wouldn't be anything without this man's input into my musical growth probably the one person that taught me more about music and making music and understanding the language than all those above combined.
Well Ron it's evident that you learned a lot from 'Gus' and I think you would fit extremely well into that A-Team Band of yours. By the way, what was the first concert you ever went to?
Day On The Green with The Beach Boys and Chicago. Then when I turned 18 years old there was a club in Palo Alto called the Keystone and they would let 18 year olds in with a specific handstamp so you couldn't drink. But I saw so many great acts I just lived there.
What about your very first band?
The Gaslighters, that's the band who played the Keystone and opened for many big acts.
Obviously you have been playing a long time, but did any decade stand out more than another musically for you; were the 70's great, were the 80's better?
The 70's for me was all about listening to music, the 80's and 90's I played a lot more and then these days we've been recording and filming a lot specifically at Expressions College in Emeryville California.
Is there anything missing in your life right now?
No, definitely not. I have a great wife and family, there's always little hiccups in the road here and there. Nothing that is preventing me from playing music which is what I love to do.
Well Ron, have a great show tonight and have a great rest of the summer. Jambandfriendly.com supports Good Life Rhythm & Blues Revue and wishes you a lot of luck in the coming year!
Thanks Tuck!
For more of Ron and GLRBR check out: www.glrbr.com
For 7 Come 11 and Chris Denoto check out: http://7come11.org/