Eli Jebidiah's Leap of Faith from "Poor Man's Whiskey" to "Huckle"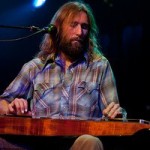 Important decisions in life require a lot of courage and strength to successfully navigate through the next chapter of ones career.

Especially for artists living on nothing but a shoe-string and relying solely on their creativity and faith in the music they produce. For Eli Jebidiah, that leap of faith is happening now. The musical spirit and rising star has adopted a new persona this summer as he embarks on another musical endeavour. Huckle will be Jebidiah's main focus with a solo career and new album in the works.
For eight years, Huckle played in the band Poor Man's Whiskey from San Francisco and captured the hearts of those in the jam scene. Audiences loved the band's sound, appreciated their rendition of Dark Side of the Moonshine and cherished their acoustic sets in festival campgrounds and parking lots all over the west coast. If that wasn't enough, Huckle also lead the all-star collective Guitarmageddon as well as the Allmond Brothers Clan performing several times a year.
Talking with Huckle this past week at The Starry Plough in Berkeley, I found him to be one of the most humble, passionate and professional musicians in the industry. Huckle takes his spirituality and place in the world very seriously, just like a Zen master. Huckle resembles Duane Allman onstage and has a warm and caring personality to boot. Anyone with that much clarity, drive and passion is surely destined for greatness and I am eager to see Huckle progress nationally.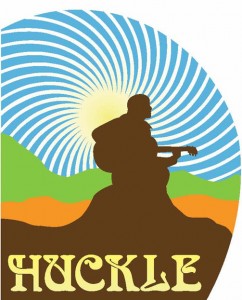 At this point though, Huckle is unsure about a permanent line up for the new band and had to rustle up musician friends for the set in Berkeley. On drums this evening was Lucas Carlton from Hot Buttered Rum and Murph from Izabella on bass. Together, the trio was a power-house with a big sound and many diverse songs. You couldn't tell the guys hadn't rehearsed much and they came across as a tight-knit group.
With about 50 people in attendance, the guys opened up the set with a hard hitting acoustic original Boomarang in the same vain as Gov't Mule. In the solo, the band launched into a high energy, double-time jam with Carlton leading the way.

The second song Diamonds featured Huckle on 10-String Acoustic with soaring vocals and Kimock-style guitar phrasing. This track could get any audience dancing off their feet and one of my favorites so far. Huckle had an arsenal of instruments in his collection and the third song By Your Side featured him on banjo. By Your Side is a slow, back-porch song with meaningful vocals and feel-good melodies.
The fourth song, which doesn't have a name yet, had Huckle on an Acoustic Lap Steel Weissenborn style guitar as well as Lucas Carlton on African Tongue Drum. It was reminiscent of something out of the New Orleans Bayou with an African back-theme. Close your eyes for this song and it will transcend you to a distant land filled with inspiration and bliss.
The next song House of Cards takes Huckle back to the acoustic electric 10-string guitar and has that 1982 Cars sound with descriptive vocals and driving hits. I hear a lot of soul much like The Rolling Stones from 1979 and shows us where Huckle's roots lie in music. Murph's bass is huge in this song and the tone is funky and expressive. For a new song, the guys nailed it.
The Ocean starts off melodically and slow like an East Indian meditation. This song seems familiar to me with eloquent vocals and a simple first verse. Then the music explodes and takes off with hard hitting punches and soaring vocals.
The last song Ramblin brought up Kate Gaffney on backing vocals and Aaron Redner on fiddle. Redner is the front man for his solo band Kinky Buddah who opened up the show. As fast as a locomotive and jam grass in spirit, Ramblin was a great closer for the night.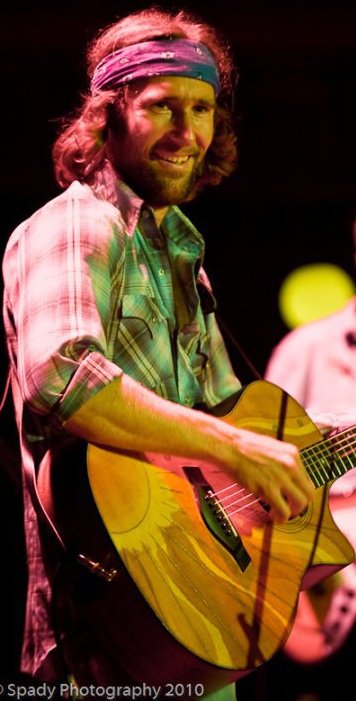 Huckle and I spoke in the green room which doubled as a storage area with low ceilings and a claustrophobic feel. Behind me were stacked chairs and crates. Just beside the door was a bucket filled with beer and scattered around the room were instrument cases piled high. It's been a year since my last interview with Huckle and it was a pleasure getting to know him more. Huckle is a troubadour of life, an artist in the real sense of the word and someone who stands out among the rest. The music industry needs to take notice of this talented individual who has a story to tell and a message to deliver

Interview with Huckle, at The Starry Plough Thursday, August 11th, 2011

Congratulations on your new solo career. Where are you musically tonight with a short set and a new band?
I'm in the process of making a new record, so I don't have a band right now. I've been really fortunate that my touring friends have gone out of their way to help me with pre-production rehearsals and recording. I wanted to be able to hear what the songs sound like as a trio before I went into the recording studio. It was important to me to have the drum and bass parts defined so I could gain a sense of how the songs feel once those parts were fully developed. Dave Brogan (ALO) has been helping me a lot playing drums, as well as "Murph" on bass. Those are the two guys I am making my new record with. Lucas Carlton from Hot Buttered Rum and Steve Adams from ALO have also done some pre-production rehearsals with me, which has been awesome. Lately, I've been on the road a lot gigging with Poor Man's Whiskey before my final gig on August 7th. In the few days off I get between gigging, I've been running up to the city and trying to rustle up people to do pre production rehearsals. I was able to lay down tracks for 4 songs at Lightrail Studio's which has 2-inch tape machines that used to be owned by Jerry Garcia. It's the same equipment that was used on Workingman's Dead and the recording is getting run through a Gamble Console Board. It sounds great! Between gigging a lot and prepping for this record, I just haven't had an opportunity to rehearse with a consistent lineup. So, tonight the three of us are going to do material that we all know, which is about 45 minutes worth. I have cleared my gig calendar for the next two months so I can focus entirely on developing my songs and release a full length record in October. By then I will have enough material to do a solid 2 hour set.
It's obvious you are taking a leap of faith. How does that feel inside, what are your emotions right now and what are your thoughts moving forward?
I am excited beyond belief. I have been waiting a long time to do this. I love my band mates and brothers in Poor Man's Whiskey, but, this has been something that I've wanted to do and needed to wait for the right time for it to happen. Summer of 2011 was the right year for my change and things aligned correctly. I am really glad I was able to take the next two months off to make this Huckle record. This is the only band that I am focused on now, with the exception of a few Guitarmageddon gigs at festivals. It feels so good every second of the day, I wake up and go to bed smiling. I can't believe that I am in a place in my life where I can finally devote my time and energy completely to my band. Everything feels right, regardless of how successful it turns out to be. Huckle is what I want to be doing with my life right now.
Take us back to high school when you came of age. What bands were you involved with and what were you doing with your life?
For me musically, I came of age in college. Right before my freshman year, I bought Jimi Hendrix' Smash Hits. I can still remember getting in my dad's 1982 rust orange Toyota Tercel and listening to Stone Free. I was blown away and went on this Hendrix obsession for a year. Then I went into a blues focus and that evolved into Duane Allman and Stevie Ray Vaughan; all at the beginning of college. Then I went way deep into all the Delta stuff. Jason and Josh from Poor Man's Whiskey and I all met in college. We learned to play music at UC Santa Barbara and came of age together.
In those days, Isla Vista had an amazing music scene and community. We would all do shows together with our bands on Del Playa, Anasquio Park, or on campus. Looking back on it all, I can't believe what a fertile oasis it was for musicians. We did shows with Jack Johnson's college band Soil, also ALO, and a bunch of other great bands, many of which are still at it today. Looking back on the scene now, I see now that it was a special moment in time, but back then I just thought it was like that everywhere.
I went through all the blues stuff, then the jam based music. By the end of college, I felt that music was all about smoky bars and people partying all the time. The ones who were doing well with it didn't seem too healthy and were strung out most of the time. Loving the outdoors, I didn't feel like that was a great road to take and went off to do some different things for a while. I toured North America as a professional hang glider pilot, climbed many rocks, skated pools, and traveled the globe surfing . I became a photographer and made some films. Getting into all these other passions was great because it got my head and heart creatively aligned. When I came back into music with Poor Man's Whiskey, it exposed me to acoustic based music, which I have fused with my love for 70s blues rock, and ultimately this led me to the sound I have developed in Huckle.
What about pre-show warm up and focus? What do you do before to prepare emotionally?
For me, it's really about trying to bridge the gap between action and intention. In the music I write, (lyrically and melodically) all the parts are there to support that message. I do feel that music is a great pulpit to express something and I am doing my best effort to make the most of that opportunity. I want to share my music with everyone who wants to listen, it is something that I really believe in. Before a show, I will warm up my fingers and voice. I bring the band together to talk through the set and go over what we are doing to do. I like to make sure everyone is calm, hydrated and focused. Before we go on, I pull everyone in to express how grateful I am that they are there. When we play, I want to be very present in the moment and then let it happen. There's a lot of intention with what's going on right now and it feels so good. It's much less about partying and more about expressing something that comes from a deep place within me and that is the number one priority now.
If you were to read your horoscope tomorrow, what might it say for the coming year in 2012?
Well, I don't know how to phrase my answer in horoscope language, but next year I have a very ambitious tour schedule. Once my record is released and I have a touring band ready to go, I am looking to be out on the road doing 150 to 200 shows a year. This is what I want to do. Leaving PMW to start Huckle was not a whimsical or off the cuff decision. It was a pre-planned and methodical transition. I have a two year plan with goals that need to be reached. If I can do it all, the sky is the limit. At the end of the day, I have no control over whether people like my music or not. But, what I do have control over is making Huckle the best expression of what I believe in.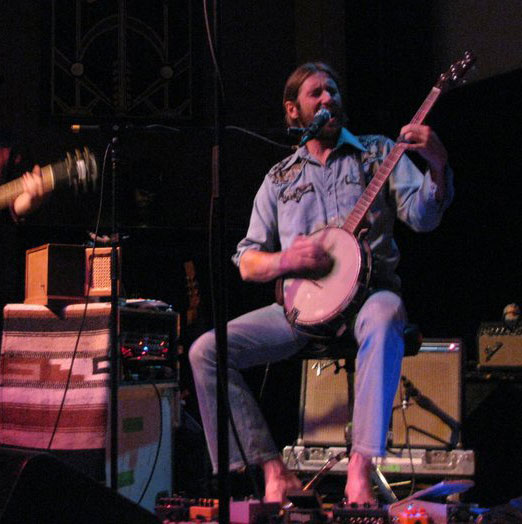 You have played with countless musicians over the years. But, who haven't you played with? Alive or dead, who would you like to share the stage with?
I would love to play with Ali Farka Toure who did an album with Ry Cooder, John Hartford, Duane, Jimi, Derek Trucks, Warren Haynes, Albert King, Willie Nelson Dan Auerbach, Roy Buchanan, Merle Haggard and JJ Cale, just to name a few. I look up to the way people like John Butler and Ben Harper have navigated their way through life and maintained their artistic integrity in what they do. I respect the balance they have found between family, being socially conscience in their music, and continuing to grow as an artist. Those three main aspects are what I am trying to do with Huckle. I don't what to be the guy who is away from my family all the time, or can't support one. I have had some great role models in my life and I believe that it is an attainable goal.
This will certainly go down as a pivotal moment in your life. What other times have had this much of an impact?
I have done a lot of different things that have really shaped who I am. I paid for college by getting a tennis scholarship and spent much of my early life as a competitive athlete. From there I went into being a devoted trad climber and survived some intense moments on the rock. Then I was a competitive hang-gliding pilot for two years and I spent another two years immersing myself deep in the sub culture of the skate boarding world. I also spent a year and half traveling from Nepal to New Zealand. That really reset my global view of the world and got me thinking outside of the North American envelope I had grown up in. Throughout all these years, I have been an avid surfer and my relationship with the ocean is something that always centers me in life. All these things lead me to have really big personal insights. Honestly, I don't get nervous in life these days too much. I had two really close calls where I feel lucky to be alive. One time I was going 70 mph in my hang glider and missed a cliff by a couple feet. I also had another close call getting flipping upside down in a cloud in the desert at 18,000 feet. If you forget a lyric, miss a chord, or do something else that you are embarrassed by, you are going to still be alive and wake up in the morning. Most thing are just not that bad, so there's not a lot to be nervous about. Some of these intense experiences and outdoor pursuits in my life have shaped me as an individual. Also, from spending time in friends' communities who have like minded values have greatly reinforced my beliefs. Being a good person is the key to living a good life.
Your instrumentation is so unique and diverse. What do you call the acoustic flat steel guitar that you played tonight? It looks home made.
Yes, that is Wessienborn style lap steel. I couldn't afford one of the original ones that were built in the 1920s, so I decided to build one. Everything I have done, whether it's surfing, skating, or playing music, I eventually start making my own equipment. For me, it really helps to understand my craft. I met a great luthier, John Knutson who prepares stuff for Kimock and Lindley and said, "Hey I want to build a Weissenborn". Then I reached out to Todd Cleinsmith who is a really famous Dobro maker. I got some koa wood from him, and then brought all the materials to John's shop. Two months later, I had finished making this great acoustic lap steel based on the shape of a style 1 Weissenborn. The binding on the sides actually came from an abandoned walnut door. I am carving a totem pole for the head stock one of these days and then it will be truly finished. I have wood to make a few more. Once I get Huckle up and running, I will make a few more for me and some of my friends who want one.
Thank you for your time Huckle, I know you have to pack up and get out of here. Have a great year and good luck in 2012.
For more of Huckle, check out: http://hucklemusic.com/