The Big Wu: Interview with keyboardist Al Oikari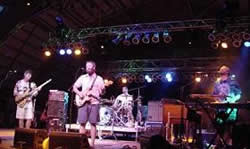 West of the Great Lakes and lying just below the Canadian border is a jam band pocket in the heart of Minneapolis.
It is home to The Big Wu and for years the band had been dominating the music scene around the Midwest. It's no wonder that through the '90s and well beyond 2000, large festivals and parties were centered around the band. Ask anyone from Minnesota and they will tell you that The Big Wu was a big part of their life. Some say the group introduced them to the term "jam band".
But with success, comes struggle and the guys from The Big Wu are no exception. Faced with lineup changes, financial struggles and battles with a record company, the band was forced to take a break early in their career. These days the guys are hanging on though, playing isolated shows around Minnesota and hoping for some kind of future. With new babies and growing families, life for the band has become a challenge.
I came late to the Wu after missing them on the east coast and then tuning in late while living in California. Their songs Precious Hands, Kangaroo and Bloodhound from the album Tracking Buffalo Through The Bathtub are some of my favorites. Ones that I could listen to over and over again, putting a smile on my face and singing along to the chorus every time.
On lead guitar & vocals is Chris Castino, on bass & vocals is Andy Miller, on keyboards & vocals is Al Oikari and on percussion & vocals is Terry VanDeWalker. Every member of the band carries his own weight and works well together onstage. Their songs are brilliantly written and could easily get airplay on the radio.
The Big Wu is one of those bands that I wish I saw in their heyday and hope the guys will overcome obstacles and get back out to the west coast. On a recent post about the band, one friend got excited even at the mention of the band's name. They wanted to know if the Wu had plans to return to California, just so they could see the band again. I think anything is possible at this point and we just have to hope for the best.
Despite minus temperatures in Minnesota, record breaking snowfall and part of the football stadium roof caving in, Al and I spoke in the middle of December about the band and their unknown future.
The community wants to know what the band has been up to. What was the year like and what shows have you played?
I wasn't sure this year we were ever going to play again. There has been a turnover in the guitar slot as most of you know over the last few years. In July 2009, we did a family reunion festival. But beyond that we passed on playing our annual Thanksgiving show at The Caboose in Minneapolis last year. Nor did we play over New Years Eve. Personally I thought it was a unique opportunity to play because it was a blue moon. I don't know how many more centuries are going to pass before that happens again. January was slow for us and a little confusing. There wasn't a cohesive and collective vision within the band, not even knowing if we wanted to continue. It was a little hiatus for us to get recharged and it's definitely not coincidence that two of the guys' wives were expecting babies this past summer. I think that maybe led to us having to face priorities. We did a couple shows this year and it worked out really well; the music has been fun. Our drummer returned to college and is managing a bar and our guitarist is working in Minneapolis. Everyone has their day job so the idea of jumping on the tour bus really hasn't been an option. We talked and decided to do a few test runs on long weekends; we wanted to see what the music and chemistry was like. We did a couple festivals as well and a Caboose show this past fall. We are even thinking about doing a Colorado run in February.
You guys have a New Years show coming up. What's planned for that big weekend?
New Years will be in a ballroom, at a hotel complex in Burnsville, with a complete package for our fans to have dinner, champagne, a party at the swimming pool and one full night of music. The whole idea of partying and then going up to your room sounds very appealing to us and especially the fans. The band Down Lo will be opening up the night, who are also a bunch of friends of ours.
You joined in '96 Al, how did that happen?
A mutual friend called me up and told me that a new band was playing regularly and didn't have a keyboardist. He thought it would be a good fit. I ended up playing the whole night with them and the chemistry was great. Although, I must say that I didn't know many of the song titles and structures. But, I improvised and followed along pretty well. That summer I started playing sporadically and then more regularly by September of that year.
What kind of band did The Wu want to be back then? Was it always the plan to tour and develop a following?
The guys were all college students and just wanting to play music. By the time I came along they had a good repertoire of cover songs doing The Dead, Dylan and The Allman Brothers among others. That was the time when Jerry passed away. What struck me was the great vocals and double guitar in the band. It was very melodic and the songs had nice lines in the music. They really had the three-part harmony down with their voices and were writing their own material.
When you joined the band, was there was some type of loyal fan base?
The guys had a regular gig at The Terminal Bar in Minneapolis and played there on Tuesday's. At the time, summer was a really happy time around those parts because winter is so long. We love the four seasons but when the cold weather is gone, everyone celebrates. Forty to fifty fairly dedicated fans would usually show up and some who would come from out of town.
In the late '90s, were you guys hitting the road or just playing around your area?
We would do long weekends at that time because most of us were not ready to tour. Some were trying to retain full-time jobs while playing music on the weekends.Colorado was fun, we used to hit that area. The first tour if you could call it that, came out of a contest here in Minnesota. We played with other bands at a local venue and the winner got 3 or 4 dates on The Horde Tour. We won and got to tour around the country with the other bands. At that point, it looked like something could really click with our original music continuing to develop at a fast pace.
The first Family Reunion was in '98?
If I remember, the first one wasn't advertised as a family reunion. I had a bunch of years of recording experience. I had produced in the past and I convinced them that the material was good enough to record. As a result of winning the contest, we needed to find a way to cover these dates and look like we knew what we were doing. Morphine, Beck, Primus, Leftover Salmon, Neil Young and The Big Wu were on the bill. So we threw together a fundraiser to cover the transportation costs. While it wasn't considered a Family Reunion, that would be the first one in my mind because that was the party that allowed us to get the down payment on a van. We needed that transition from a local band to one that traveled and toured.
What happened when Jason left? Did you guys just roll through it or was it weird and challenging?
I was closer to Jason than the other guys but from my mind, he had some real burnout and wanted to concentrate on home life. There was also some stress associated with a bankrupt record label. We had to wish him well and move forward with the music. Some of our songs had been constructed with two guitar parts and one is dependent on the other. My first thought was how we were going to change the performance aspect. We had to decide on replacing that guitar slot but we didn't want to get delayed. Right after he left we had some extended tours planned and went ahead as a 4-piece. Unfortunately, our other guitarist had open heart surgery and we needed someone to fill in for a bunch of festivals and gigs. We didn't know if Chris was going to be able to play. We were kind of stuck at that point.
For the millennium, where were you guys playing?
We played at a club called the Quest and I think songs of Prince had something to do with that. In downtown Minneapolis, we set an all time attendance record for the place. Luckily the computers didn't crash and we had a great party with costumes and two other bands that opened up the night.
In your opinion, what years was the band at its best?
Those initial tours when we just starting out were the best in '97, '98 and '99. Through tape trading at that time and the early inception of the internet made it possible for fans to know the music. We were surprised by that and felt great that crowds were supporting us. During the struggle with the old record company we were at our peak musically. There was some stress from the road but it was really a great time. While in New England, we got a call from the agency that our tour had been extended another two weeks. There was a collective groan from the band because we wanted to get home, do laundry and catch up with family. Even though it was grueling, the time was great.
At one of the reunions, a full moon came up over the stage, there was a huge crowd and the band sounded amazing. Then we played Bonnaroo, but had some issues going on with the band. Even still we were psyched to play the very first festival there. Some of the band and crew had traveled in a van and left the same day as the show. They got caught in traffic and arrived just in time to play the set. Luckily, they called ahead and said the band was on the way. We had to do a "plug and play" and pulled off a great set.
I wish I were there for that time but missed out on hearing the band early on. Is there still hope for the Wu continuing to play and travel?
Everybody is involved with their families right now and management is on the east coast. In terms of numbers, it is easier to travel closer to home. I wish we played more on the west coast, but we are looking to tour Japan. Back in 2006 we went overseas there and it was amazing. There's no reason why we couldn't do anything big here in the states. Chris went into a writing lull after his surgery but after that experience he is writing again and bringing a new life to the band. I love the studio just as much as touring. It's been a number of years since we recorded and I think that needs to happen first.
Thanks for your time Al, Jambandfriendly.com hopes you will come out to the west coast. Good luck in the coming year. We'll see you soon.
For more of The Big Wu, check out: http://www.thebigwu.com/