"Tauk"! (Pronounced 'talk') Is along for the Ride!
The band Tauk from Long Island, New York is living the dream. The five piece unknown jam band is touring the country with big acts in toe that draw large crowds and get people in the door to see them.
Tauk is currently opening up for Tea Leaf Green doing multiple shows in a row on the west coast. But, there's a reason why they are getting chosen to go along for the ride. This band has talent, amazing song writing skills and is lucky to have a front man that not only has great stage presence but also delivers a high energy performance. It is clearly evident that the guys have played music their whole lives and destined for some type of success. It's just a matter of time before Tauk gets noticed.
My interview with the guys was one of those chance encounters that just worked out. I went to see TLG at Moe's Alley and didn't know there was an opener. But, I gave the band a chance, saw the set and knew that I had to catch up with the guys after their performance. I found it very hard to describe the sound of the band or put them in a specific genre; maybe that's what makes them a jam band.
According to the bands website though, "Tauk delivers a unique blend of funk, jazz, pop and rock with a fresh, experimental spirit. Since forming earlier this decade, the Long Island-based quintet have built an impressive DIY buzz, scoring opening gigs for O.A.R, earning slots at top festivals like Gathering of the Vibes (alongside Buddy Guy and Bob Weir and Ratdog) and being featured on Fuse TV."
Tauk is touring in support of their new album brokedown king which has a professional and polished sound; one that could get airplay on a major radio station right away. On vocals and out front is Alessandro Zanelli who is not afraid to show the audience what he's got. The confident and young singer has a huge range and is able to capture the crowd immediately. I hear a voice that has elements of Grunge, Hard Rock and Jazz all rolled into one. On keyboards and organ is Alric 'AC' Carter who fills in the gaps eloquently and brings that Jazzy, Rhythm & Blues sound to the band. On bass is Charlie Dolan whose lines are groovy, very funky and always in the pocket. On lead guitar is Matt Jalbert who not only has a strong command of his instrument but also fills in between the gaps perfectly. His tone has the right sound for the band and I am eager to see him grow. Listen to his solo on Maybe So and you'll hear him shred with passion. On drums, the powerhouse of the band and driving it all is Adam Akpinar who is not only humble but also dedicated to keeping it all together with ease. Onstage, the band listens well and has proven that they have rehearsed tirelessly moving from song to song. It is clear that this band needs to play for more than forty five minutes to show off their skills.
Several of the tracks on the album brokedown king resonated well and can compete with mainstream pop but have a clear Indie sound. The album opens up with a funk driven song Eva, with tasty bass lines and powerful vocals. The song reminds me of The Chili Peppers or Sublime but has that Euro theme intertwined throughout. The song Hiker is complex and big with an alternative rock theme at its roots, thanks to the drums and vocals. The guys even get to jam out during the solo and open it up a little building and building with soaring guitar lines and melodic keys and synth in the background. Just when you think the song has come to end, vocals punch back and complete the story. In the song Snoopy's Revenge, AC's keys set the mood throughout the track with a sound like Ray Charles but remain in the background. He clearly sets the stage for everyone else to do their thing on top of it. This song could easily be heard on a mainstream acid jazz station in London England, if there is one! My favorite song on the album is Roll with the Punches.; maybe because it has that early nineties Blues Traveler sound which takes me back to a time in southern California when I was by the beach and seeing a lot of music.
Something about my interview with the band will stick inside me for a long time. The guys and I got together outside of Moe's Alley in Santa Cruz, in the dark, only several feet from Tea Leaf Green who was minutes away from their set, but didn't have any idea what was going on beside them. The guys from Tauk all stood around me in a semi circle still elated from their show and happy to speak to someone about their craft. I told them that the interview was off the cuff and I wasn't prepared but somehow it would all come together.
Guys, thanks for a great set you tore it up in there. Although, I am having a hard time placing your sound and placing your genre. Listening to your set I just couldn't pin down the style of your music. How do you describe yourselves?
We consider ourselves experimental, trying out a bunch of different things. We try to incorporate a type of fusion with what we do.
How did this lineup come about and how long have you all been playing together?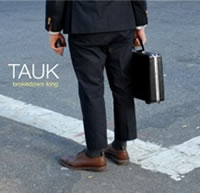 We have been playing since high school, actually some us since middle school. But by senior year we were all playing together in Oyster Bay which is on Long Island. Then we all went off to study music but kept in touch and continued to write music. Last summer we recorded our album "brokedown king" and did that out in Los Angeles with Robert Corranza who does Jack Johnson, Mars Volta and Ozomatli.
I heard a lot of Jazz with R&B influences in some of the vocals and keys, did any of you study in school?
A bunch of us studied Jazz, and actually listen to a lot of it. We were all apart for so long in school and did our own thing but then came back with our own strengths. We each have input trying different things all the time.
Besides rhyming with New York, give us a little background on the name of the band Tauk?
Charlie was wearing a Montauk shirt a while back and one of our old buddies said "Hey why don't you cover up the 'mon' and just put 'tauk' on there." Once we did some research and realized how much we loved the place, the name just stuck. There's a lot of folklore, the area means so much to us and it's a very mystifying spot right on the tip of Long Island. We feel close to it, it's a staple and it's our home.
How is life on the road? You guys are putting in a lot of shows and definitely far from home?
It is a blast! There aren't many people out there who we can spend sixteen hours in a van with. It has to be a very unique relationship; there is a certain bond almost like family. It's tough sometimes but it beats the hell out of a day job. The bottom line is that we are doing our art and we have a lot to say to a lot of people. We're just trying to get the word out there and spread our take on life. Hopefully people will listen. It also makes playing the sets a little more rewarding. After you drive in a van for that long, when we actually get our gear set up and have that 45 minutes to play it feels that much better. It's great to meet people in our travels and we attract all types in such a special way.
I had no idea who you guys were and I don't think a lot of people do; certainly not on the west coast. Your first song "Roll With The Punches", I am curious in what context are you talking about: touring, music, relationships?
That's our oldest song we play. Yeah, it's about dealing with life, the struggles of growing up and sometimes of doing a little too much of this and that. Basically living life and trying to have an optimistic outlook in such a pessimistic world.
What about playing just yourselves where you get two to three sets. I know you are song based, but do you get to stretch out onstage when you have more time?
Not as much this summer so far, we are just taking everything we can get with the forty five minute sets. We're putting everything we have into those. But we have played shows before where we don't have to worry about time limits and we can definitely stretch out. As a new band we only have one album out but as we build our identity we are still searching. We are looking to figure out what other songs and things work for us. From there we will be able to get some longer sets and get fans who want to take a listen.
What's planned for the next few months?
We'll be continuing this tour through the end of November opening up for Robert Randolph after TLG. And we are also opening up for 311. Though we could be considered a jam band we also like to consider ourselves a band that is not pigeon holed into being one thing. We are willing to experiment and see who wants to listen to the message. Hopefully, everyone will listen to it.
Congratulations, a lot of bands would love that opportunity to be picked up by a big name. That makes it a lot easier. You guys put on a high energy, serious and passionate show. I think people want to see that. Jambandfriendly.com supports you guys and wishes you a lot of luck in the coming year.
For more of Tauk, check out: http://www.taukband.com/