Kate Gaffney: Destined For Greatness!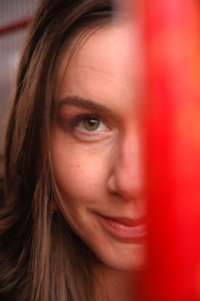 For months I had been hearing the name Kate Gaffney around the San Francisco jam scene.
I had missed her set at High Sierra this year and the many shows at The Connecticut Yankee, but, knew I had to seek out a performance quickly before Kate started attracting bigger crowds.
Something about her style intrigued me; maybe it was her catchy name or the instant buzz in the industry that was created around her shows. One thing was for sure, I needed to hear her sound and meet up with The Kate Gaffney Band somewhere.
When I finally did see her set in the poster room at The Fillmore this fall, I was completely enthralled by her professionalism and talent. Kate has the ability to command a full band on her own, write insightful and heartfelt vocals and can play the guitar like a pro. So what is it that is holding back a super star like Kate from exploding on the scene? She has all the elements for success and has certainly put in the miles over the years. I ask myself, when will the music gods bestow some sense of recognition for her hard work and reward Kate for her efforts? When will Kate Gaffney be a household name? Time and spirit only know!
Kate has that Americana flavor in the jam band genre but more funky with a southwestern folk vibe that is soulful and downright addictive. Every song is beautifully crafted with catchy lyrics, eloquent harmonies and a message that screams of poetic grace. The song What Kind of Man should be played on every radio station in America; it's hard hitting and passionate with a straightforward folk-rock anthem that wants to be heard. Falls Bridge starts off like a JJ Kale song, one that has that bounce to it with a perfect hook before the chorus says "Let the games begin"! In the middle of the song, Kate throws in a stop for good measure and then a quick piano interlude to bring us back into the verse; then again with the hook and finally Kate belts out the moral cry before the guitar takes us out at the end. The Ballad of Sleepy John (a cover of Jackie Greene) is one you can listen to over and over again without getting stale. In true ballad form, Kate sings those high notes with ease and shows us the wide range of her singing capacity. Kate sounds like a seasoned veteran in this song like Bonnie Rait or Maria Muldaur and it's certainly one of my favorites so far. Tired Wired is a close second to one of those songs I could listen to repeatedly no matter how many times. In this track, Kate talks about the road, touring on nothing but a shoestring and being up all night. Tired Wired is a feel good song that would get you dancing right from the beginning.
If you have seen a show in the poster room where Kate was playing between sets at the Railroad Earth show, then you know how intimate and small the space is. Bands set up on a little riser above the carpet in a dimly lit room. Slowly I watched concert goers file into the room intrigued by the framed tour posters on the walls and the band that was setting up to play. Kate had with her Dave Brogan and Lebo from ALO joining her this evening and we knew the crowd was in for a special treat.
Kate and I spent a few minutes before her set talking about the hardships of being a musician and the incredible momentum she has gained in the last month. Not only was she playing that night but also at The Hardly Strictly Bluegrass Festival the following day to thousands of people on one of the side stages. It appeared like Kate was in her element, liking the energy of the weekend and proud to be a musician.
Congratulations on your night here at the Fillmore, your appearance at High Sierra and of course Hardly Strictly this weekend. It feels like you have a little momentum going, was it noticeable when more people started coming to see you perform.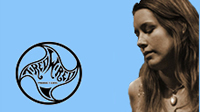 High Sierra was very exciting, because I had been going for years and always thought that it would be great to play the festival. I finally got to play it and it felt really good. In the past, I moved around a lot and finally relocated to San Francisco and hooked up with Fritz at the Connecticut Yankee. He is a super big supporter and believer. We started a weekly thing there called The Kitchen Sink Sessions. From that we kept meeting new musicians and building a network of players. It was really obvious to me that I could feel a 'musical momentum' rather than a fan increase. I still don't know how many fans I have but felt it once I had Fritz behind me and a believer in what I was doing. He was able to help me out and promote Kate Gaffney just out of the kindness of his heart. People started caring and would tell me that they heard my name mentioned or saw me recently perform. I have moved around the country a lot on my own for the last eight or nine years and dabbled with management but always ended up doing it by myself.
For people who haven't seen or heard of you, what is the Kate Gaffney sound?
It is 'Jambandfriendly', although I wouldn't call it a jam band per se, but of course we can jam at times. It's got an Americana flavor, a little bit of folk roots in there and it grooves. I like to think of it as Rock and Roll but when people hear that description they think of Elvis or stuff like that.
What was it like when you were first starting out, were you a singer songwriter?
I will always consider myself a singer-songwriter whether its a full band or solo gig. I did a lot of open mikes and solo gigs but I prefer playing with a full band and playing with people. It's more fun for me as well as the audience; I still do the folk, solo gigs though.
What were your expectations back in those days when you were starting out? Were you thinking this with a full band, a lot of shows and touring?
I always had hopes to do all that, to tour and play. I would go out to festivals and would always wonder what it would be like to play on those stages. I never had hopes of fame and fortune; all I ever wanted was to happily sustain a living doing what I love. Over the years I got more realistic about my expectations as I went on and wanted to have that staying power. I just have to keep doing it!
What about influences and heroes, who were you looking up to in the music world. Do any come to mind?
Today before the gig I popped over to Hardly Strictly for one set, that's all I had time for. I really wanted to see Gillian Welch; that was the inspiration for getting here tonight. And seeing Emmylou Harris in the back and Patty Griffin; those are the people now as a female artist and singer songwriter who I want to emulate what they are doing. They aren't the ones I was listening to when I was younger though. I was into the Grateful Dead, The Beatles, Van Morrison and all the classic rock growing up.
You're from the east coast originally, how is it different there. Have you played much?
I was there about four years, I put out two records and it's definitely different. I think California is more open-minded to the music I do, to the free flowing, spiritedness to what I do. They dug it out there in the east and there's a big jam band scene which is the same everywhere because there are always festivals and touring bands. So that is all interconnected, but in terms of the attitude of the region, California is more open to it all. I still love the east coast, don't get me wrong.
Me too! What about this coming fall, new years and into 2011, are you thinking that far out?
I should be, it's something I've learned with booking myself. I am still on the low end of the totem pole, but I also have dabbled enough to know what you need to get to that next level. It's a lot about networking and having that support group and having a team. I don't have that group of individuals doing booking or managing that they say you need.
Besides management or playing to 5000 people, how are you with this place in your life. Are you content, is anything missing, are you yearning for something more.
Yeah, I am yearning for a little more money in my pocket to be honest with you.
We know that it's really not about the money, I am always happy in the present and I try to always live my life that way. It's always important to be looking forward and hoping for a little more. I would like to be touring for a month and doing a long run and then get back, have off for a couple weeks then head out again. Ultimately, touring is what I want to do and I have done it before. Last year I booked myself across the country but it wasn't opening for a bigger act and their tour. It was just me out there.
I saw you with a full band recently, is that lineup solid or do you keep changing it up?
That's the other thing with being a singer songwriter under my own name. I have definitely played with a lot of musicians even back east. Now that I am on the west coast it's a little more consistent with a regular guitarist. Although he isn't here tonight so I guess I do mix it up. Maybe it has to do with availability. And I am always happy to have 'Lebo' from ALO joining me with Dave Brogan on drums.
I have found a lot of people who want to play with me, get them for gigs. So I have consistency but I do want a set band that never changes but given the times people need to work. There have been a couple guys in each slot who I can always call so I feel like I can always have a solid band. That's the fun thing about the jam scene, there are so many different players; the Kitchen Sink Sessions started that way. We always had people sitting in and that seems to be the nature of the scene.
Well, you should know that people are definitely talking about Kate Gaffney. Jambandfriendly.com supports you and wishes you a lot of luck in the coming year. We'll see you again at Las Tortugas, have a great set tonight in the Poster Room.
Thanks Tuck!
For more of Kate Gaffney check out:
http://www.myspace.com/kategaffney