White Water Ramble: Keeping up the spirit of Jam Grass!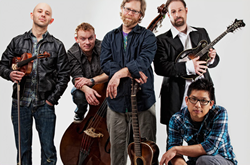 The jam community can always use another bluegrass band, especially from Colorado! I say keep them coming, the more the merrier because there is something special about the genre that makes us scream for more every time.
From the high-paced speed of the songs to the soaring solos in between, the Jambandfriendly fans love the sound, appreciate the history and want to get down on the dance floor to bands like Yonder Mountain String Band, Head for the Hills, The Stringdusters, Leftover Salmon, Bela Fleck, Sam Bush, Hot Buttered Rum, Great American Taxi and The String Cheese Incident. These days there are even festivals geared around bluegrass which attract crowds who are serious about the music and passionate about the performance. It's a treat seeing musicians huddled around one microphone playing traditional bluegrass compositions at festivals or seeing bands that have taken that sound and expanded the music into something bigger.
Within the bluegrass world there are several styles we all know and love: the traditional acoustic sound with strings only; the electric-acoustic more jammy sound that has become popular in the last twenty years and finally the jam grass high-energy hybrid with drums and electric bass sweeping the country by storm. All have their unique attributes and are popping up everywhere we turn.
Case in point! There is a new band emerging on the scene. White Water Ramble from Fort Collins, Colorado who brings their own sound to the table with a blend of jam-grass, dance music. The guys are touring in support of their new studio album All Night Drive and according to their website "features twelve original tracks complimented by a who's who of guest artists. Produced by Tim Carbone of Railroad Earth fresh off projects with Greensky Bluegrass and Great American Taxi, the album leverages six years of touring, writing and arranging the very best of WWR's original pieces. Guest artists include Steve Molitz of Particle/Phil&Friends, Josh Clark of Tea Leaf Green, Erik Yates from Hot Buttered Rum, Grant Gordy of the David Grisman Quintet and "Pistol" Pete Wall on Saxophones".
All the guys in WWR listen well onstage, are highly skilled and bring about a consistent and clear sound in the delivery. Each member adds his own strength to the group and takes turns shining in the spotlight. On mandolin and vocals is Patrick Sites who seems to be the driving force in the band. His playing has that Colorado based sound to it and he pushes the envelope consistently all the time. On acoustic guitar and vocals is Patrick Latella who compliments the band well, not overpowering and just the right touch. On upright bass and vocals is Howard Montgomery who is steady, focused and the backbone of the rhythm section. On fiddle and vocals is Adam Galblum who is super tight, extremely fast and has more talent than he knows. On Drums is Luke Emig who has returned to the band after being away for a year. His playing is fluid, always in the pocket and Luke is a great listener. I am eager to see him grow as a drummer and definitely a nice fit for the WWR sound.
The new album is available free on the bands website and can be downloaded quite easily. I was impressed with the cover art, the professional and polished sound and the way each song blends into the next. Maybe that is the result of Tim Carbones production support that is evident throughout the whole album. Several tracks resonated well and stood out among the rest. The first one Trouble is reminiscent of early Sam Bush and has that Rocky Mountain, Colorado sound with zany lyrics and lightening-fast, finger-picking mandolin. The song Dead For Now has that western prairie, cowboy feel to it. Adam Galblum's fiddle is highlighted in this song and shines throughout the solo. Pulled Pork features Steve Molitz on keys and Pete Wall on Sax adding that jam element both guys are well known for. This song takes us away from that jam grass feel and becomes something completely unique with hard hitting punches and funky interludes. Drawing Straws is one of those tracks I look for in an album, one of those 'out on the road' songs that cruise along and keep you going until the end. Riptide features Josh Clark from Tea Leaf Green on guitar who cuts loose immediately in the solo and adds a sound that is big and powerful.
I had the honor of meeting the guys at Moe's Alley in Santa Cruz for a brief interview in September. Then I caught up with Partick Sites on the phone after the tour to see how everything went. The night at Moe's Alley was a special one with Nat Keefe from Hot Buttered Rum sitting in on the first part of the set and then Steve Molitz sitting in on keys for the second half. Those that were there got a chance to see a fun filled show with tasty jams and memorable songs. The guys broke out all the favorites and due to a week night played one very long set for the lucky folks dancing with delight.
Patrick, you guys tore it up at Moe's Alley last month. I am very curious to hear how the rest of the tour went musically and what were some of the high points?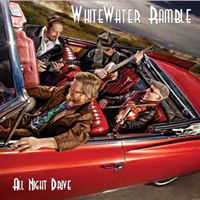 Wow, we had many high points, but thinking back San Francisco was pretty amazing. We put The Connecticut Yankee to capacity with a shoulder to shoulder audience and had Tim Carbone, Pete Wall and Steve Molitz playing with us. It was definitely the musical high point of the trip. We had great jams, a big crowd and in a groovy city to play music in. That was really good for sure, but Hermosa Beach was great too. We played with Tea Leaf Green on Sunday at a really great club called Sainte Rock. That was a nice, full room, a lot of rad people and a good turnout.
What about the musical growth of the band, when I used to do 15 shows in a row, the band would climb to higher heights all the time. Did you guys notice the plateaus that usually come along with touring? Was that evident to you throughout your time on the road?
I think the peak where we had the most people in the room and the biggest energy onstage was at The Yankee with our friends sitting in. It is so tough to play with guests not just for a few songs but for the entire night and having to move fluidly on and off the stage. And because the Yankee is so small it was definitely a challenge. But musically it was very spectacular and we had a taper there who recorded the show, uploaded it to Archive and it sounds great. No doubt a peak, but each night was a different musical experience because some nights we had a lot of guests which always changes the dynamic of things. Or we play as a five piece and sometimes one person will sit in for a song like Josh Clark from TLG. So it's a different musical experience, keeping it fresh and entertaining all the time.
White Water Ramble is gearing up for some big shows over Halloween with Particle in Fort Collins, Breckenridge, Boulder and Crested Butte. Any expectations for them, are you really excited to play?
Yes, very excited more than anything and the reason being twofold: one we are really big fans of Particle to begin with and especially fans of Charlie their original guitarist. He is making a return appearance with the group so from a fan standpoint, it will be fun. Second, the shows will be completely full and jam packed. It's very exciting to have a big crowd expected and each will have a little different crowd than we have played to. This is a great opportunity to merge a couple of worlds like jam grass with a more live, electronic feel that the Particle fans are used to hearing.
What about any anxiety or butterflies about the next run of shows?
For the most part, we have played so many shows with so many big bands and exciting large festivals. I think something like that is a little behind us but I suppose taking the stage at Red Rocks might be a different story. These are places and rooms we have played before with big crowds; although we'll have to see on the night of the show.
How did you guys come to Steve Molitz and Particle?
Through the bass player Eric in Particle, we played a small club in Missouri that he is a part owner in. And that night he came up to us, introduced himself and said he liked what we did. It turned out we were back there for a show and Eric happened to be in town too. So we invited him to sit in and play bass with us. From there our friend Pete Wall who was playing sax with us at the time got picked up by Particle full time. They were a big fan of the horn and have been flying him all over the place lately to do shows with the band. That bridged the gap to play with Steve and we decided to have him do extended shows for something we did called a jam grass tribute to The Dead. We do a whole dead set and put our take on the music with Steve; he's also on the record. It's been a great fit with Steve and Particle.
It looks like you have a Montana run coming up with stops in the southwest and then the big show with Railroad Earth for New Years. How is that going to go down, have you played with them and how big is it going to be?
We have played with the RRE several times actually. The New Year's show will probably be the biggest thing this band has done to date. The Ogden is certainly the biggest venue we have played. Tim was the producer of our record so we have a little history with RRE. We did a couple dates with them last year and no strangers to those guys. Just last week we were at the Harvest Festival with RRE who has been great advocates of our band. In Montana we do really well there and excited to do the shows leading up to the big one over New Years. We have about 500 cd's that we are just going to give away for free that night.
What about the Jam band community, do you think the scene is staying consistent in size or growing considerably now? Where is it headed Patrick?
It is certainly the foundation of this band and we love seeing the big bands that draw fans out to the festivals like Phish and String Cheese Incident. I don't see it slowing down by any means because we are getting good turnouts wherever we go. It's very much about community and people helping out. Lately we have had the good fortune of meeting jam band societies who help bring bands at our level to town. That is how we are going into Albuquerque for the first time; meeting photographers, live artists, hoopers, and all kinds of people who have skills and things to offer. It is a nice community that helps us out and we are fortunate to be a part of it. In essence, the scene is strong and I don't know if it is growing but it feels good. Certainly we have met a lot of great people.
Do any performances stand out among the rest? What comes to mind for a top show in the past?
Billings, Montana with Railroad Earth in 2009!
What about up and coming bands out there? Who do you like, what are you listening to?
Dead Winter Carpenters and Elephant Revival!
It sounds like you got a lot planned, things are going great for the band. Is there anything missing in your life right now?
We are rehearsing and in the creativity process because it's a slow time of the year. So pumping out some new songs would be great which we will do by the beginning of next year. And we are very excited to be part of that process.
Well, Jambandfriendly.com wishes you continued success and a lot of luck in the coming year. I hope to catch you again in the spring.
Yes, we will be back doing something with Poor Man's Whiskey so that'll be great!
Thank you for your time Patrick. Take care and we'll see you soon!
Thanks Tuck!
For more of White Water Ramble check out: http://whitewaterramble.com/home.html