Eli Jebidiah, Drinking some of that Poor Man's Whiskey!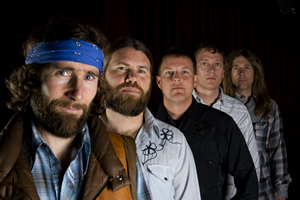 At this year's 2010 High Sierra Music Festival, the guys from Poor Man's Whiskey were completely in their element; and just like they should have been.
From acoustic jams in the campgrounds to costumes and skits on stage, the band reveled in its glory and embodied everything that the festival has come to live for.
Starting Friday night the band rocked the Music Hall and then again on Sunday the guys put on a stellar show at the Grandstand stage. Those that were there got a chance to see what the band is about, the music that it plays and the message that it tries to get across. Judging from the crowd that saw both shows it is no mystery that these guys can not only tear it up onstage but also can put on a fun and theatrical show that encompasses multiple styles of music. But then again that is the meaning of a true Jam band; covering the musical spectrum with tasty originals and memorable covers.
According to the bands website, "Poor Man's Whiskey plays 'High Octane Hootenanny' music. Emerging from the San Francisco bay area music scene this quintet has developed a sound that is eclectic and engaging. PMW has been winning over national audiences with their upbeat performances, zany stage antics, and infectious songs. While seamlessly integrating acoustic and electric instruments the band weaves tales of everyday life, inviting the audience to become a part of each show".
The band's music is unique, interesting and downright addictive. The song "Firing line" starts off with a Hey Bo Didley groove and then launches into a ripping train beat with that back-porch bluegrass shuffle to it. It's one of those tunes that would get any crowd off their feet dancing and screaming for more. Easy Come is a bar-song ballad that tells a story about a hitchhiker on the north coast of California. I hear a lot of emotion in the vocals with soaring guitar solos, eloquent harmonies and a chorus that begs to be repeated. The song Three Years Gone reminds me of an early nineties, east-coast, jam band tune that you might have heard from Strangefolk or From Good Homes, Todd Sheaffer's first band. It has heartfelt vocals, a catchy beat and excellent musicianship. Certainly one of my favorites that is true to my heart for someone who saw hundreds of shows during those early years.
Cousin Billy has that theatrical element to it but definitely moves at a face pace with memorable chorus lines and beautiful solos. Hearing this song at a festival would have you dancing on the grass or off your feet for late night.
Along with Eli who plays guitar, banjo, mandolin, theremin, and sings is Josh Brough on banjo, keyboards, harmonica, and vocals; Jason Beard on Guitar and mandolin; Aspen Stevenson on Bass and vocals; and George Smeltz on Drums, 'suitcase' and vocals. Everyone in the band is an accomplished musician who adds their own element to the group in equal ways. The guys jive onstage and it is clearly evident in their performance.
Poor Man's Whiskey has also given the jam band community a different take on the album Dark Side of The Moon from Pink Floyd. Only this time the guys do it bluegrass style and put the music in a different context. Available now from cd baby is their new album called Darkside of the Moonshine, a two disc set featuring nineteen tracks in their entirety. If that wasn't enough, the band has plans to record a live album this fall with information on their website for being a part of the whole experience.
It's no mystery that PMW has a lot going on and their continued success made it very easy for me to want to learn more about the band. Eli and I caught up about the bay area music scene, the history of the band and their travels for the last ten years.
How did Poor Man's Whiskey come together?
Jason, Josh and I went to college with the guys from ALO down in Santa Barbara and started playing there. From there the band just developed over time.
I know it's been a while but can you remember any of the gigs you played in the beginning. What was it like for you guys starting out?
The original shows were a whole host of random places, basically whoever would take us. We were a string band for the first couple of years; I think there was a kindergarten benefit we did, a bunch of wineries and then public shows. Everyone in the band was totally new to bluegrass at the time. We weren't really that good; it was culturally foreign and basically took whatever gigs would come to us. Then we picked up a drummer and for a while we were a seven piece band with every type of string instrument with me on dobro. Then it worked its way back down to a five piece like we had back in college with a stronger acoustic influence.
How did the whole Pink Floyd thing start?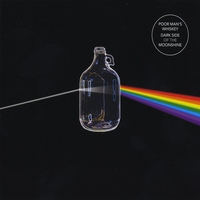 Jason has been a maniacal fan of Pink Floyd since he was eight years old; we all love the music but he takes it to another level. Some of us had various projects where we would take songs and translate them to bluegrass because it is such a good fit. One night Jason was up late strumming with his Mandolin on Dark side of the Moon, had this pivotal moment and thought of recording the whole album. He brought it to the band, got us excited about it and did the bulk of the arranging for it. It was really his baby but I was totally happy doing it all.
Besides Pink Floyd, who are the other influences in your life?
Josh and I are big fans of the singer songwriter culture like Towns Van Zant, Willie Nelson and Kris Kristofferson and that brings a lot to our ballads type of music. We definitely have some deep Jam Rock influences but I am more into the fusion based music which leads into the instrumental stuff we do. Also, the New Grass music out there like Bela Fleck, Edgar Meyer and the Sam Bush revival crew. Jason is a big eighties fan, he is the only guy who has Air Supply on his iPod. We all like classic rock because we grew up in that sub culture. I come from a big influence of the electric blues side of things like Hendrix, Stevie Ray and Albert King; that was a big center point for me through the years with the band. It's a far cry from the singer songwriter thing and makes up a weird intersection of styles in the band.
What was it like playing with Phil & Friends in 2005 for New Years? Was that a high moment, what do you remember from the night?
That was crazy because all of us were scattered in getting to the gig and there was a huge storm in the city. I think it took Josh nine hours to get the gig from out of town; others had to fly in from San Diego. It was a really fun night, we can all still taste the energy in our mouths from the night. It was at the civic and it just came out of the blue. We found out at the last minute and mobilized; but it happened in such a blur it came and went before we realized it.
Anything stand out from Telluride '06?
Yes, we were in the band competition for that one and got to the finals on the main stage. We had to do an instrumental and didn't have anything we were excited about. So I convinced the band to try something different and out of the box. There was a single microphone and we had to all play around it. We all dressed up in these totally random outfits and costumes which made no sense at 10:00 in the morning. I had leopard print pants with a velvet shirt, Jason was wearing a MuMu and Josh had on a captain's outfit. For our instrumental, instead of just sitting there and picking some music we started running around in a circle playing our licks in time. So when each of us got to the mike in rotation we would play our feature solo while the rhythm section was holding it down. I guess it didn't really sound that good because we got fourth place. It was a crazy trip driving straight out there and back but worth it because of the amazing lineup that year.
It's obvious that PMW is more than just the music. I caught a recent UTube clip of you jumping off the stage at High Sierra for the last note of the set. Sort of like Townsend from The Who in his glory. I am curious if that was spontaneous, you had thought about it before or was it something you always wanted to do?
That just usually happens in PMW but for that one, I was supposed to give the cue to end the song during American Girl. At the end, it occurred to me that that jumping off the stage from the stage monitor would be a good cue to end the song. I was glad the band figured out what I was doing and ended the song there, after I jumped off the stage onto the field. I was glad I landed ok because half way in mid air I realized I was wearing cowboy boots, but I got lucky on that one.
What are you guys excited about these days?
It's been interesting to see the band evolve both on the acoustic side of music that we got out of for a while as well as the electric style that our roots are from. Our electric blues, the whole Jam Rock genre, it's been fun to see it turn into something that is honest to our influences and our intentions.
Did you guys play one of the first Hardly Strictly Bluegrass Festivals?
I think we were in on the third one and have played the last seven. The first one we did ironically I jumped off the stage at the end and then ran back to the green room, so I guess that stuff happens a lot with us. In those years, it was less populated. You could get around without any problem, now it's almost impossible to walk around the crowd. From the back end of things I have to say that Hardly Strictly has an unprecedented artist intimacy to it. They do this thing every Saturday night where they close Slims and have an artist party there with all the musicians from the festival. It's a nice size venue with Gilian Welch singing a tune, then T-Bone hops up and does one. There's a total camaraderie there because I think more than any other festival it embodies the spirit of music. The caliber of musicians for a free festival, I have never even heard of that anywhere. All musicians are stoked and grateful to be there and that is rare. You know this 'Tuck' from touring; you are in production mode coming in for your set and then leaving for another show where it feels like work. At Hardly Strictly, time stops, you can take a deep breath and enjoy the weekend. Last year I was watching Buddy Miller play and this guy bumps my shoulder by accident. It turns out to be Robert Plant and then this woman next to me I notice is Emmylou Harris. A few years earlier, I had eaten dinner with her and Robert. Where does that happen!
What about Australia? How did that adventure come about?
That was a magical moment, I had been wanting to get there for years and through music. It came out of the blue, the festival director was traveling thru Sausalito and saw a photo of the band in the newspaper. I think it was from Oysterfest, but he saw that and then he started researching us and contacted our manager. The next thing we knew we were booked five nights at The Byron Bay Blues and Roots Festival which is their Hardly Strictly over there; it's an enormous festival. I am friends with some Australian acts and when we told them we were coming they were proud and excited to see us. It was a great entry into that country and I am grateful for Peter taking us under his wing; talk about an incredible experience. The crowds, the crew, everyone is there for the music; there's no ego and they love the festival. Our Dark Side was the fourth highest selling cd at the festival and we did some renegade stuff wandering around the festival playing acoustic music. We played all five nights doing three sets of Dark Side stuff and two sets of our original material. It was definitely a high point in life for me.
It sounds like you guys play a lot of big shows here and there thru the year, I am wondering if you guys went out on the road for two to three weeks at a time?
We have done that here and there but for the most part we don't, because Josh and I are the two guys living off this full time and Jason has a family. So we have set up our schedule where we are not on all the time. We cut our calendar back to about fifty shows so we can focus on smaller ones and it has worked out a lot better. The other guys with their work schedules and family get to balance the two.
It's been great for Josh and I too because it has allowed us to develop some other things. We are both releasing solo cd's; we have been having a ball playing in some side projects. Mine is called Huckle which will be a major focus for me in 2011, I play acoustic lap steel which I made. It's similar to the John Butler Trio. I am going to be recording a solo cd in the next month or two with Zach Gill from ALO in Santa Barbara and the rest of it here in San Francisco. Jason will also be releasing a solo project cd in the winter with his band is called Jed. Also Josh and I are in The Allman Brothers Clan which is a fulfillment that we had in college to do an ABB tribute. Its authentic with two drum kits, organ and we shave our beards so we look like Duane and Gregg. I am also in charge of this band called Guitarmagenddon which has been traditionally a festival kind of thing. We pick a theme and we bring in all the guitar slingers that are there at the time like Luther Dickinson, Pappa Mali and whoever is in the house at a festival. We are going to be doing this at Las Tortugas. Josh has been playing in a band with Nat Keefe and some of the guys from Isabella and New Monsoon called The Quickees. I just came back from doing a small tour with the band Great Owl, which is members of Isabella and Sean Lehe. Think of Neil Young meets Jimi Hendrix.
The last question Eli, I am wondering if there is anything missing in your life these days?
No, I am really happy right now, I love where PMW is going and love the fact that we have the opportunity to spread our wings in other directions; but everything is in a really good place. We are excited to do a live recording at The Mystic which is the first time we are going to sit down and do a live album. For us we've missed that and it's something that will be fulfilling. We'll also put our calendar up for 2011, I feel very lucky to be at this point in my life.
Great, thanks Eli for your time. We'll see you at Hardly Strictly Bluegrass and Las Tortugas. JBF supports Poor Man's Whiskey and wishes you luck in the coming year.
Thanks for taking the time to do this Tuck.
For more of Poor Man's Whiskey visit http://www.poormanswhiskey.com/