Head for the Hills: At The Top of Their Game!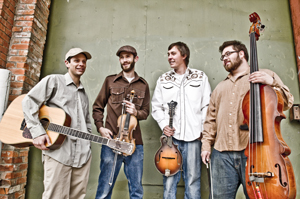 Colorado seems to magically produce some of the finest music out there.
Maybe it has something to do with the incredibly high altitude, the great outdoors or maybe the breathtaking scenery at nine thousand feet above sea level. Whatever it is, the Rocky Mountain state has to provide musicians there with inspiration and wisdom to yield great songs, produce awesome bands and deliver memorable shows. Even the mention that a band is from Colorado evokes a sense of maturity and grace that always lives up to the states' reputation. Over the years countless groups have emerged on the scene like Leftover Salmon, String Cheese Incident, Yonder Mountain String Band, Shanti Groove and now Head for the Hills is taking most of the country by storm and making their mark in history.
By chance I stumbled upon their name recently; a friend told me there was good music coming to town and a band called "Head for the Hills" was going to be at Moe's Alley in Santa Cruz. I hadn't heard of the band but something inside said, "they are from Colorado, this must be good ". Little did I know what an impact this group would have, leaving an impression that motivated me to write this article and become an instant fan of 'H4TH'.
The bands sound has that traditional bluegrass feel but also has an element of jamband improvisation that is refreshing and unique. Their songs tell stories, move at a fast pace and leave the audiences screaming for more. On guitar and vocals is Adam Kinghorn whose picking and strumming are top notch. On Fiddle & vocals is Joe Lessard who is a master in his own right. On Bass & vocals is Matt Loewen, a monster musician and always in the pocket; and Mike Chappell on Mandolin who not only shreds with his instrument but also rivals other mandolin greats out there. Maybe that's why on their new self titled release, the band attracted some big names from the Jamscene.
According to the bands website, "The six-year old pickers attracted heavyweights like longtime jamband and bluegrass vet, Drew Emmitt (Leftover Salmon) as their producer who took them up to Bill Nershi's Sleeping Giant studio to record -- where he and Emmitt recently laid down their own release, New Country Blues. Studio engineer Gus Skinas worked the knobs, who boasts a particularly intriguing CV having digitally remastered Pink Floyd's Dark Side of the Moon; In addition, Vance Powell -- who adorns his mantle with a Grammy for his work on the Raconteurs wildly successful Consolers of the Lonely album -- mixed the record. Finally, the recent studio release benefits not only from guest picking and vocals from Nershi and Emmitt, but also Anders Beck of another group of burgeoning picksmiths, Greensky Bluegrass . In addition Kyle James Hauser (Gregory Alan Isakov) and James Thomas supply their talents on banjo and Keyboards".
H4TH is one of those bands that are well known in their home state but spend a lot of their time on the road. What I found in my interview were four of the most humble and passionate guys out there just trying to spread their message. Four very close friends who are with each other day in and day out, logging thousands of miles in the tour van and hoping for that national recognition. As soon as we sat down I felt very comfortable and at ease with H4TH, almost like I had met them before.
Guys, it is really nice to meet you. Thanks for giving Jambandfriendly.com a few minutes of your time. How is the tour going musically for you. Comment about the musical growth of the band with so many shows in a row?
I think there are on-nights and off-nights ya know. And so it definitely depends on the evening, but we've been really enjoying everything a lot lately and there is definitely growth. We are playing a lot of new places we've never played before and with that comes a new energy. So every set feels a little more exciting than the night before in that way because we are playing some new spots we haven't played. And in terms of us as players, I like to think we are getting better and getting tighter every time we play. We are listening to each other more and locking into it.
Give us a little history of the band, how you all came together. Was there a unique story, did any of you guys know each other, how did this lineup form?
Adam and I (Mike) we have known each other for a bunch of years, we used to play little league in late elementary school. And in high school we started playing probably when we were about eighteen around that time just mandolin and banjo. We went to Colorado State College and Adam ended up meeting Joe and Matt thru either friends or thru being on the same floor or just word of mouth I guess. We pretty much formed in the dorms and many of our first rehearsals started there. From there we started playing parties and we started taking it a little more seriously a couple years into the band and decided to take it further.
What about influences outside of the bluegrass genre?
I would say those are very wide ranging, we all have a pretty eclectic taste. How bout the records we just bought, you go first Joe? (Joe answers: "what records we just bought, I am spacing out right now?")
Ok then, who did you like in High School?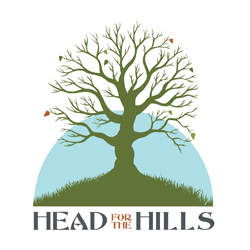 Pink Floyd, although we listened to a lot different stuff. Mike and I (Matt) tend to try to keep up with kind of the Indie Music general sphere of the new stuff that is coming out. We listen to a lot of jazz, a lot of quirky 70's stuff and whatever I can get my hands on. I'd say notably I am really excited about that 'Arcade Fire' Album that they are releasing, so that is a more current example of what I would be excited for coming out.
I heard a Trey lick onstage during sound check Mike!
I do like Phish too.
What about fears? Do you have any fears on the road about people not showing up, gear breaking down? What are you all afraid of?
Now that my backup bow broke, I am definitely afraid of the imminent gear thing happening and we try to carry an extra instrument but not everybody has a backup. I would say we just got a new van so the fear of the van breaking down is still there but it's definitely lessoned. Both passenger doors on this van have broken on this tour so we are all climbing in thru the driver door so it's not actually a fear anymore but at the beginning of the tour we were fearing that happening and it did.
Do you guys think about crowds coming to see you outside of Colorado or is it easy going? Are you open minded and whatever happens happens?
It's definitely easy going, we definitely do everything we can to spread the word and get people to see the shows. We love it when it's a crowded room but in terms of us and our own energy onstage we tend to keep it at a high point regardless. For example last night in front of 3 or 4 people I thought we were having a good time despite the lack of people in the room. It depends but we are very accepting when it happens ya know. There is a certain vibe you get from it. I think we are entering a new phase of expansion of touring and opening up a bunch of new markets that we haven't hit before. When you are going back to a place for the sixth, seventh or eighth time and there's no one there then we are getting pissed and worried. The way we have been doing things, that hasn't really happened.
I know what you mean, my band 'is' had a live series called "Music for No one" and it was some of the most stellar and amazing music that was played to an empty room, but we were on fire. I have been looking at your website all day and it's no mystery that you guys have some momentum. I am curious when you noticed the momentum, when you saw consistent crowds, started recording, found yourselves opening up for bigger acts and saw Billy Nershi sitting next to you. Was there some notice or did you just ride the wave?
It started to be noticeable when we were doing shows in our hometown and it's no longer your friends, it's a whole bunch of strangers and people you don't recognize. It happened several years ago in our home market and it's starting to show more on the road. I do remember us talking about that and saying "Who were all those people". That's maybe the closest we've come to actually seeing that we had something good going.
I also noticed on your website that you have thirty two shows on summer tour, back to back thru August. In September it lightens up. How is it with back to back shows on the road, is it easy. How is tour?
One of the big things you accept are the tradeoffs that are involved; we get to drive down the 101 along the coast and see all this amazing stuff. But we can't get out of the van or else we will be late for the show. So in that sense we are on the west coast and it's amazing but we don't have any time; the ultimate reward is getting to do what we do for a living. I constantly think about all the people working in the restaurant I used to work at or doing things back home and thinking about what we are up to now. It is pretty exciting!
David Grisman was quoting as saying that 'Old and in the Way' rehearsed anywhere. If someone said "let's rehearse", someone always replied, "OK, let's go!" They ripped it up wherever they were. Are you guys rehearsing wherever you are, playing somewhere standing up in a parking lot?
Yes, especially Adam, he is the guy who will lead the charge. There have been plenty of times we are picking in the parking lot. It's very easy in the bluegrass genre as opposed to other electric styles probably because it's all acoustic instruments. There is something cool about getting off the stage and going right into the green room and continuing to play without stopping.
What about stretching out onstage, improvising, do you guys open it up?
Yes and no in a limited way. We try to do new stuff and do new segue's but we follow a formula. Although, there are tunes with complete sections that have a key'd center. But really it's just a jam.
The new album just came out with Drew & Billy. How did you come to them?
We wanted to work with Drew, that part was definitely first and something that Mike started generating this idea up to a couple years ago and after the first record. We said "what are we going to do next". So we had him and then the third piece is the technology that we recorded the album with, so we had him and this idea with using the DSD technology that is a high fidelity format and then it became how do we get him and that stuff to the right place. Where is the right place? We had met Nershi who we had worked with before and he had been talking up this studio that he had worked on and wanted someone in there. It was cool, he ended up having more of a role that we initially thought he would and input and not just a studio owner but as listening on the headphones, moving microphones and giving suggestions in terms of harmonies and guitar parts.
Is there anything that sets you apart from Yonder Mountain String Band?
We have different instrumentation. Switch out the banjo for the fiddle. We are coming from a different place in terms of song writing. They tried to go for a more traditional sound. Their records don't veer so much outside, they bring a different energy to it. But I think we are interested in stepping outside lines that they haven't had an interest in doing in terms of bringing different tastes and things and flavors. Like more swing, electric mandolin, more instrumentals.
What about Greensky bluegrass? I know someone from the band played on your album but have you hung and partied with them?
Oh yeah, they are good friends of ours. They are the band we have hung with most.
We didn't see you at High Sierra Music Festival, you think next year?
Hopefully, yes let's do it!
Please get yourselves to the festival. Jambandfriendly.com supports you and wishes you a great year. The San Francisco Bay area will be hearing a lot about you guys. Thanks for your time!