Split Shot: Making a name for themselves!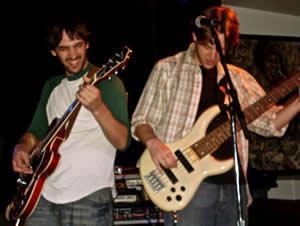 The jam scene today has with it many styles of music and that's the beauty of the genre.
There has always been a wide spectrum of sounds so vast anyone's tastes can be met. At any given festival across the country funk, jazz, rock, psychedelic, reggae, bluegrass and dance can all be heard. The band Split Shot though from Santa Cruz, California brings a new flavor to the jam scene, a sound reminiscent of early American and European pop radio in the late sixties.
To me the band has a Mother Hips sound but also touches on elements of The Beach Boys and other great acts. Split Shot is another young and talented band climbing the ladder of success looking for recognition from the music business. Whether it's a major label showing some interest, a promoter offering gigs or consistent crowds coming out to see the band every night, the guys just want something to show for their hard work. In the music business though, the 'Success Gods' are very picky and only grace the selective few with its glory.
But, I think Split Shot has what it takes to gain momentum and win over the hearts of those in the business. Incorporated within the music are eloquent harmonies, hard hitting transitions, driving melodies, soaring guitar solos, tasty bass grooves and catchy songs to boot. Split Shot puts on a powerful show that leaves the audience feeling good and thankful for hearing the music. Songs have that bounce to them, make you want to dance and contain a certain mystique that is intriguing and interesting.
The bands new album "Dynamite on the Set" is an amazing production with great cover art, well engineered tracks and a polished and professional sound. On lead vocals and rhythm guitar is Sam Fischer whose voice has that grace we all look for in songs. Sam has no problem being the front man and comes across well onstage. On bass and vocals is Isaac Fischer who is always in the pocket and commands a strong presence in the band. Follow Isaac's bass lines onstage and you will find amazing phrasing and well thought out progressions. On lead guitar and shredding with his instrument is Chris Foss who has that Trey Anastasio sound. Listen to his solos on Green Roads or Speak of the Devil and you will see why I like this band. On drums and new to the band is Dave Roda, a heavy weight from the Santa Cruz community. He is one of those studio musicians who play in multiple bands and the guy you want to hang around forever. It didn't take long for Roda to come up to speed with the material in the last two months and it is clearly evident in their performance. He brings maturity to the band and a great addition in every sense of the word.
At a local show in Santa Cruz last week at Moe's Alley, I caught up with the guys about their new album, their new drummer and their new outlook on life. Several years ago, I met the band through a musicians Craigslist posting. At the time, the band was still looking for a drummer and I replied to the ad. We jammed on a very memorable New Years Eve but lost touch when I joined The Good Life Rhythm and Blues Revue. Jambandfriendly.com brought us back together though for the interview and I jumped at the chance to catch a few minutes with Sam & Isaac, two brothers who work well together on and off stage. The guys have a unique chemistry together that is similar to something you might see in best friends; no ego just pure respect for each other in the band and in life.
Guys, great to see you again. It's been a couple of years, glad you are still at it. For the Jambandfriendly audience, tell us about Split Shot and the theory behind the music?
When we started playing, we were under the impression that we were going to be less jammy and more along the lines of the Mother Hips; maybe not as psychedelic but having that 'Rock and Roll' type of feel. But when we met Dave Roda on drums we just started getting more and more 'noodly' and 'jammy'. Isaac you can agree, it just went that way and we said "why fight it". We found a solid drummer who could take us to places we never thought we could get to.
What's the significance behind the name Split Shot?
We went through many names, at first we were Miznoma and we hated it. But then we started playing bigger shows, opening up for bigger acts and thought we needed to keep the name so people would get familiar with it. But when we got back together after breaking up for four months we decided to pick a new name for the band and start over. First we thought of The Cold Open but that name was taken and we got some weird emails about it because we were on iTunes. So, we went through a series of ideas. Isaac and I sat down and brainstormed Fly Fishing terms because we both love it and split shot is a small weight you use for your fly line. We agreed that the name was catchy, hip and so we just went with it.
How long did Miznoma play as a band?
About three years, at first it was a three-piece with myself on guitar, Isaac on Bass and our old drummer. Then when Chris Foss joined on lead guitar we were a four- piece for a year and a half. That changed everything because I was never a lead player, I wanted to focus more on singing and songwriting which gave us the opportunity to do so.
How did you come to Dave Roda?
We were trying out a lot of drummers at that point, had a Craigslist ad posted and Dave responded. So we jammed up in Boulder Creek one day in a studio and it actually wasn't that good. The three of us were really rusty and also a little nervous I guess. It did work out pretty well though in the long run because we saw the potential in Dave and the band as a whole. Dave is really good and has toured with some big names. He's brought us to a higher level.
You guys are obviously very young. I am curious how the sounds of the seventies, The Beach Boys and Indie Rock got infused in your system.
The 70's are from our parents, we grew up listening to CCR, The Doobie Brothers, Elton John and tons of The Beach Boys. We also listened to the Beatles and the soundtrack to Beverly Hills Cop with Eddie Murphy. (Laughes ensue from everyone at the table!) In the 90's there was a lot of new music that we neglected like Soundgarden and Weezer that we appreciate now and love it. All that has some influence although we try to play a little lighter than Soundgarden.
What about bands before Miznoma, did you guys slug it out in High School?
Oh yeah, we had a band called the Happy Hymen which was fun but the bass player wasn't that good so we forced Isaac to play Bass and he picked it up really quickly. Now he's amazing and it worked out; but playing in those years was really trying.
And what about you two personally being brothers in a band, are you learning from each other or are you intimidated for fear of pressure from the other guy?
To be honest there isn't any intimidation, we've lived together several times where we just sat around and played music all the time. Onstage, we have fun together and you wouldn't know that we were related. We are very open with each other even when playing, communicating and supporting the other guy.
Over the years, what were some great moments musically?
When we were with our first college band after high school, we went to play a festival called Weekend Grass. There was a "Pimpin Ho" party that we played at the CSU Monterey Bay Campus where I was living at the time. We had a drummer from our dorm and played a house party with about five hundred people in slutty clothes. That's when we started becoming a jam band, it all began at that moment. Then we played a festival with Blue Turtle Seduction as the headliner in Pismo and that was pretty big and memorable.
What about other music you are listening to?
We are huge Mother Hips fans. Also Soulive, Wilco, ALO and Jason Raz who is really great. More of that rock and roll theme like Surprise Me Mr Davis.
It seems like you have a very talented guitar player, can you fill us in on Chris Foss and what it's like to have him in the band?
The guy just kills it, huge Jerry and Trey fan and amazingly enough does not have a lot of music experience. Sam and I were band geeks in high school and middle school where we played marching band and all that stuff. Chris Foss just listened to Phish and he repeated what he was hearing over and over again in his room.
And the album, Dynamite on the Set which you started back in 2007, how did that go?
We had an old friend come up and produce it at our beach house in Pismo. We converted the living room overlooking the ocean into a studio basically. If you listen closely on some tracks you can hear the faintest sound of waves crashing on shore. That worked out for a while but the producer got unfocused and wouldn't mix the album for us. It took almost two years to track and at some point we had to beg him to hand over the music so we could take it to someone else to mix.
So finishing the album has been a long process, but it's finally done and you are now very excited about it. Is there a cd release party?
The official one will be on October 23rd at the Hotel Utah with the band Swedish.
What are your plans for the fall? Any plans to travel or catch a few festivals.
Our ambition is to be at as many festivals as possible and setting our sights on Las Tortugas 2011. It's hard when you don't have a big name for yourself, but we are trying to tour and find a band that will take us with them.
Do you all think about where you want to be in five years or are you just concentrating on right now.
We are definitely a right-now kind of band. We all work full time jobs so we can play music comfortably. We would like to be playing High Sierra or Las Tortugas next year so yes we have to look ahead sometimes.
One of the questions I ask all the time is what is it like to step onstage? What does it mean to you, comment individually?
I love everything about it (Isaac), I love walking onstage and knowing we are hopefully going to impress a lot people cause we practice hard. When I am up there I try to have a confidence that we are going to just blow the place up and put on an unbelievable show. Which is how I approach every gig, you wanna think that you are a great band and have any sort of accomplishment.
I get really nervous before every show (Sam) and it seems to never go away. So the second I get onstage I release that energy, it's all smiles and it feels great. We could be in the worst mood (we were screaming recently at each other) and the second we get up there everything goes away. You take on a different persona onstage and have to in order to perform. There has to be some passion to entertain people.
Well I appreciate your openness and thank you for your time guys. Jambandfriendly.com supports Split Shot and wishes you a lot of luck over the next year.
For more of Split Shot visit http://www.myspace.com/splitshotmusic
Music at: http://itunes.apple.com/us/album/dynamite-on-the-set/id349429483