"The Revivalists" From New Orleans Might Be The Next Big Thing!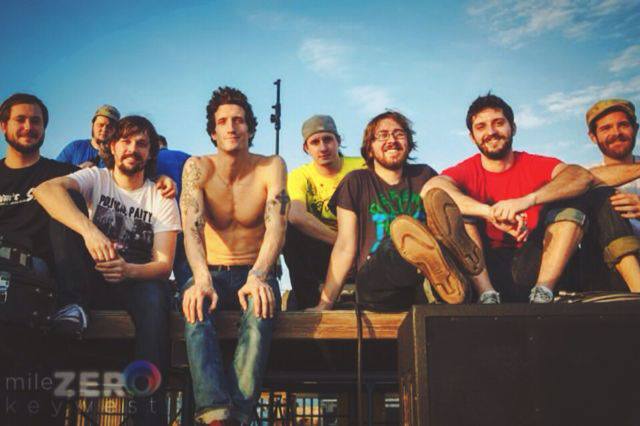 The Revivalists from New Orleans have broken out into the limelight this year playing to large audiences, appearing at well-known festivals and opening up for big name acts.
The young, original band from the southeast has a tour schedule planned that puts them on the road for much of the year. But, that's quite alright for this hard-hitting, high-energy, Rock & Roll band that craves large crowds and cherishes their time onstage.
The Revivalists have paid their dues and have climbed the ladder of respect in a town that is full of aspiring musicians all slugging it out for a tiny piece of the pie. With people that support this fine group including Ben Ellman (Galactic) and Jennifer Hartswick (Trey Anastasio Band, Van Ghost), anything is possible now.
But, don't be fooled by their connections, this band has the staying power and musical prowess to make it to the top. There's a reason this band has been given the opportunity of a lifetime – raw playing ability, intense passion, comprehension of the musical process and sheer determination to reach as many people as possible. The Revivalists could easily play to 30,000 people on a regular basis. Their sound is huge and contains a broad appeal which the music industry wants.
According to Jennifer Hartswick, who I spoke with after sitting in with the guys at The High Sierra Music Festival this past July, "The Revivalists truly believe in what they are doing. That's what sets them apart from other groups. So, any time you see this in a band, it's going to come across in a much more meaningful way."
The guys blew the roof off of two stages in Quincy, California on July 4th weekend and they introduced the west coast community to a fresh, new sound. Lead singer and front man David Shaw had each audience in the palm of his hand for both sets. Several festival goers have claimed that the 10 minute version of "Whipping Post" that was done in the Vaudville Tent was the highlight of their entire weekend. Shaw's stage presence is animated, gutsy and he's an individual in the business that doesn't come around too often.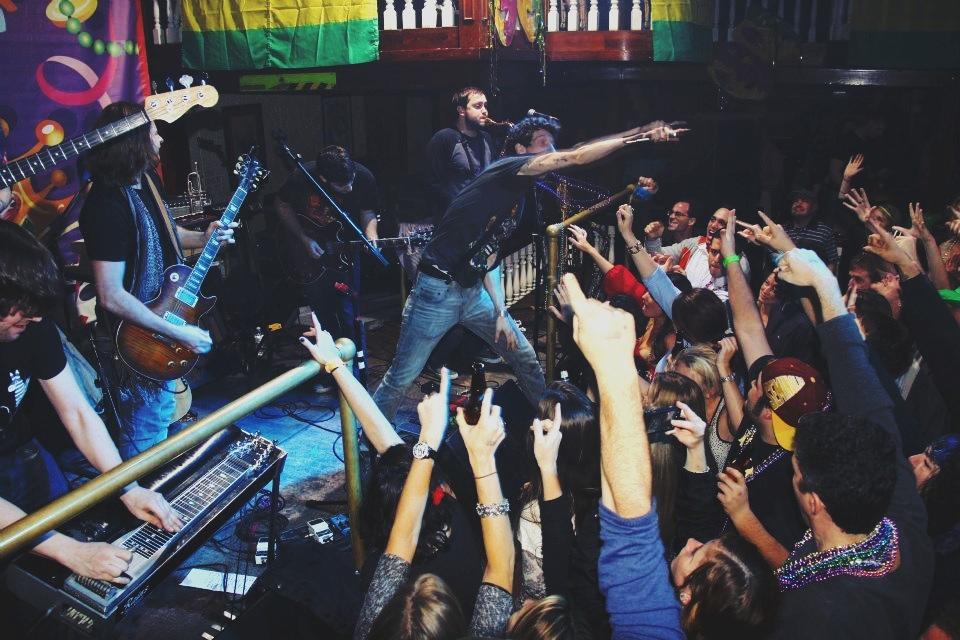 For a band to make it to the next level deserves a lot of attention and The Revivalists are getting the praise they deserve. On bass guitar is George Gekas who plays like John Entwistle (The Who). He's also a humble and outgoing guy to boot.
On guitar is Zack Feinberg who is well schooled with his Gibson and has a sweet tone onstage. Zack is one of the reasons this band got together by noticing David Shaw play a song on his acoustic guitar on a front porch many years ago.
Commanding the drum throne is Andrew Capanelli who hits hard and is always in the pocket. He's obviously been able to impress the heavyweights in New Orleans and he is the driving force of the rhythm section.
Playing pedal steel is Ed Williams who compliments this band well. Often you'll find Ed tipping his instrument onstage towards the crowd to get the full effect of his sound.
Rippin' it up on sax is Rob Ingraham who has to be living the dream, getting to share the stage with such notables as Jennifer Hartswick. Rob is creative and a sweet support to this lineup.
On keys & sax is Michael Girardot who switches back and forth between instruments and the bands newest member to the lineup.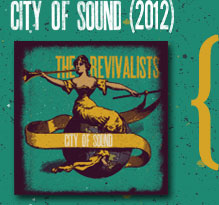 The Revivalists have two albums out, City of Sound (2012) and Vital Signs (2010) as well as a self- titled EP that was produced in 2008. Trying to pinpoint a specific genre is difficult, but this band traverses multiple styles of music. If you are looking for something to get your night started, or tracks that are soulful & bluesy, then The Revivalists are your band.
Interview with David & George, The Revivalists, High Sierra Music Festival, July 4th, 2013
JBF: Congratulations on playing High Sierra. Last night you were at The Independent in San Francisco, how was your night?
George: San Francisco is one of those special cities. There isn't any place in the country like it. It's a big, music town and if you look at just the history of bands that have played there, it's an honor for us to perform. The people in San Francisco care about music and appreciate good music.
David: It's very similar to our home town New Orleans.
George: There's a Tennessee Williams quote, "There are three cities, New York, San Francisco and New Orleans. Everything else is Cleveland". Those are definitely the three places I would want to live.

JBF: David, you were front and center at The Big Meadow Stage for your set today. Tell me about your experience trying to rally the crowd here at High Sierra.
David: They were with us, it was really easy. Once we started, it was kind of like being on cruise control. The crowd got us going and totally picked us up and in return we brought the audience higher. It was really good, but at one point we went down into a hole for a little bit, then came back out, got it higher, but came back down again, and finally picked it back up. I had a really good time.
JBF: The song Monster has some unique lyrics. Talk about your point of view behind that one.
David: It was a song that I wrote about personal feelings. I'm on the road a lot and that lends itself to meeting girls. I'm a lover, what can I say! And for a while I was dating a lot and breaking hearts and feeling terrible about doing so. I felt like I was turning into a monster because it wasn't the real me. I got wrapped up in it for a little bit, wrote the song, understood the meaning and what I was doing. Ultimately, I have come out at the other end and now able to put it in perspective.
George: That song is true to form for our band. What's awesome about it is that we were literally warming up for a show, someone started playing a part and everyone added their own element to it. David had the lyrics and everyone just attracted themselves to the song. It's probably one of the easiest songs we have ever composed together. No fighting over parts, real cut and dry, here we go, it's done, two days later. The first part everyone played is still their part to this day. I don't think anything has changed. I would love to strike gold like that again ya' know. It just came together perfectly.

JBF: George, I hear a lot of Entwistle in your sound.
George: Yes, you are correct. I love The Who, Led Zeppelin, many of the early big sounding rock-bands. Those are what I like to call the James Jamerson disciples. I also love Les Claypool who is here this weekend.
JBF: What's a day in the life like for The Revivalists, emotionally?
George: Actually, there's a video online about just that. But, emotionally? No one has ever asked us about personal feelings. It's kind of like we are on cruise- control every day. We are away from home all the time and life on the road has its up's and down's. Sometimes shows are great, sometimes they aren't. We just have to ride the highs and hang onto the lows, but we reached the point that we have figured out our group dynamic so we never have any emotional blow ups or anything. If someone is feeling down, everyone tries to pick them back up. We are blessed to be doing what we are doing. That's just a high in itself, we are so fortunate to be playing music and hanging out with our friends.
David: We could still be laying concrete, but instead we get to be playing here at High Sierra Music Festival.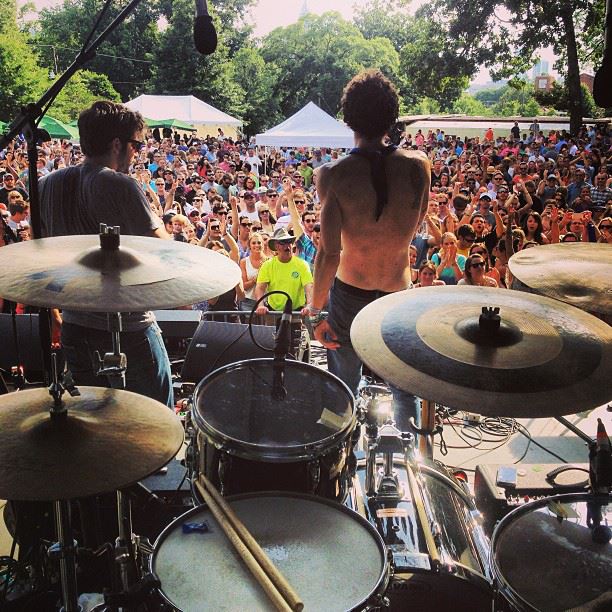 JBF: Only the select few make it to the next level and climb to these higher plateaus of the music industry. That has to feel good for you both.
David: Yes, it definitely feels good, but it happened really slowly. So, it's kind of one of those things that progressed and didn't happen overnight. We had to pay our dues and are grateful for the position we are in.
JBF: If people compared you to Dispatch, Pearl Jam and Old Crowe Medicine Show, would that be cool?
George: Honestly, The Revivalists are a "Gumbo" of styles and being from New Orleans, that fits quite nicely. And Dave will attest to this, everyone in the band likes so many different styles of music. And every song has its own character. We don't necessarily try to write a song to sound like something, it just happens naturally. You'll have an electronic sounding song, a funk-based tune or rock infused track, it's just us not trying to do it intentionally. The songs just come out and we want to have an amalgamation of awesome textures and sounds and have it be us. I've never heard being compared to Old Crowe before, but I could definitely see that in parts of our acoustic material.
David: Our guitar player used to play Banjo a lot more, but really doesn't do that. He should!
JBF: New Orleans has to be welcoming you with open arms? How is that town responding to your sound?
David: It was really easy, we feel right at home with a great crowd that has really taken to us.
George: At first, we were just another band, but when it really happened for us was when Ben Ellman from Galactic decided to record our album. The band took us under their wing. I started noticing our acceptance when it was cool with the guys from Galactic, more and more people started realizing us. Not that we are doing amazing, but now we're not just one of those "other bands". New Orleans is like that. You could easily fall into the category of transplant kids coming to college here. Now that we are still around and playing, it's nice to be associated with that royalty in music. It's a great community, tight knit, not cut-throat. We hear there are places like LA and New York where somebody might say, "No one would be doing that shit for us". Everyone in New Orleans tries to help out.
JBF: You are playing through the month of July, then the band has a two week break, then August & September you have a full-schedule including shows with JJ Grey & Mofro. What else is planned for the rest of the year into New Years?
David: Can we tell them George about the festival we are doing in November?
George: Yes, we are doing Bear Creek which I feel has a similar vibe to High Sierra. It's a funk-fest in Suwannee where they have the Wanee Festival. I'm sure we are going to be touring all over the country which will take us to New Year's at an undisclosed location. Right after that we'll do our first JamCruise which we are really excited to play. It's definitely a nice "notch on the belt" for sure.
JBF: David, tell me briefly how this band came together. I remember reading that two of you knew each other in the beginning.
David: I was sitting on my porch playing the guitar, Zack road by, listened to the song, he liked it and we became friends. He knew Andrew from some of the Tipitina's workshops. Andrew knew George who knew Mike. Most of the guys went to college together in New Orleans and I came to town once I graduated to pursue music.
JBF: I get the whole "Revival" theme of the band name, but is the name really where it's coming from?
David: The actual meaning came from Zack who heard a 60 Minutes segment about a Bruce Springsteen show having a "revivalist fervor". Zack liked that connotation and we needed a band name that night for a gig at Tipitina's. Everyone in the band loved the name and five years later it has been working ever since.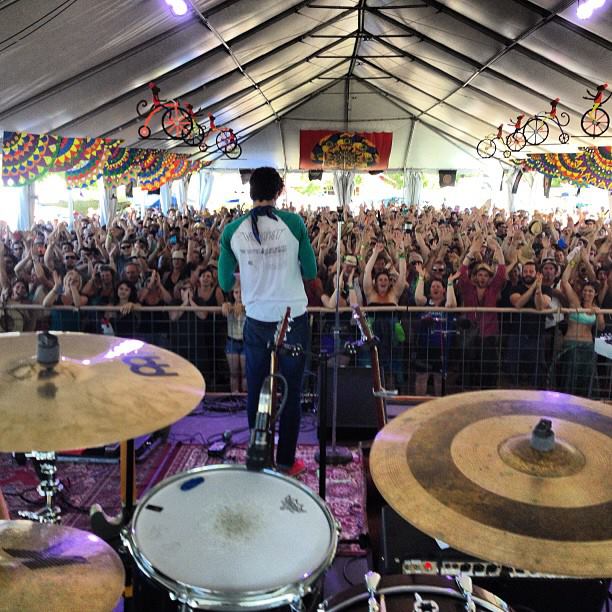 JBF: David, it seems as a front man, you have a certain message that you want to convey to the crowd. From our standpoint today, it was a real happy, positive and upbeat statement.
David: You pretty much hit it right on. I'm not always a happy, chipper and positive guy up there, but today that's what I was. I try to bring that every day. Some days the sets are a little lower key and sometimes they are real high and positive. I always try to put real feelings out there, real emotions, that's it. I am being myself.
JBF: Jennifer Hartswick sat in with you today and she is such a big name in the scene. Was that planned?
George: Jen plays in a band called Van Ghost, which we did a few shows with and we instantly clicked with the whole group. We have been seeing Jen all over and at this point she's a friend. Jen is an artist at large sitting in with so many different groups here this weekend.
JBF: I think your band could easily play to 30,000 people with the huge sound you have, but it takes a lot of stamina. Are you guys ready to play a venue like Red Rocks Amphitheater?
George: Absolutely, you're really not ready until you are up there. We had a lot of years cutting our teeth and playing long sets which molded our sound and helped us play. If you are opening up doing 45 minute sets, it's going to be a different format than playing for an hour and a half. We were able to figure out what works well for our group and to just try and convey that. Dave is up there giving his all and we are too. We really try to engage the crowd. If we are playing Red Rocks, we want that large crowd to answer our calls and be with us through the entire performance. We want our shows to be a great party with like-minded people having a killer time while we are essentially being the party setters. We were those people in the crowd for a long time and now we get to be on the other side making it happen.
JBF: Congratulations guys, have a wonderful year. Thanks for your time here, it's an honor getting to speak with you.
For more of The Revivalists, check out: http://www.therevivalists.com/