Ten Mile Tide: Transitioning into greatness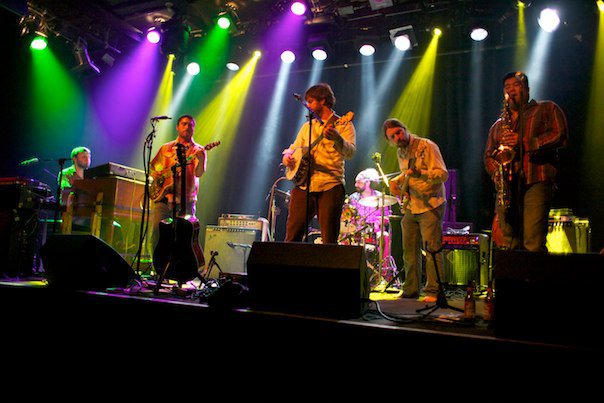 Ten Mile Tide had everything a band could want: great music, a bad-ass tour bus, a growing fan base and travels around the country.
Their folk-rock instilled music brought hundreds of fans together at shows and festivals wherever they went. With a clear direction and goals insight, the guys set out to take the country by storm. In the jam scene, TMT was known in the community for putting on a consistent and fun show every time.

These days though, the only original member of the band is Justin Munning whose song writing and musical abilities are professional and award winning. Justin's voice and stage presence can easily be compared to Todd Sheaffer from Railroad Earth and the lead singer happens to be one of Justin's heroes.
The guys in TMT are in a transition year, taking a step back and planning for something big. The rest of the band has been with Justin for several years now and new members are still joining. Just this past week, Sean Lehe from Izabella sat in with TMT, testing the waters for a permanent spot in the lineup. We'll have to see how the band progresses and takes shape in the coming months. The name Ten Mile Tide may change, but one thing is certain, the music will be nothing short of spectacular.
According to the bands website, TMT "is a six-piece band from San Francisco that describes their sound as high-energy folk-rock, feel-good muppet funk, and beer-drenched bluegrass". Ten Mile Tide has shared the stage with other national touring acts such as The Wailers, Dispatch, moe., the Gourds, MOFRO, Karl Denson's Tiny Universe, Strangefolk, The Clumsy Lovers, Railroad Earth, The Slip, Jerry Joseph, The Samples, Assembly of Dust, Blue Turtle Seduction, Perpetual Groove, and Hootie and the Blowfish and has played music festivals such as High Sierra, Wakarusa, Mulberry Mountain, Camp Jam in the Pines, Groovefest, Jammin' the Gulch, Utah Arts, Mt. Helena, Three Rivers, Whole Earth, Desert Rocks, Green Apple Music Festival, and more.
The band's latest release Riverstone is a masterpiece. The eleven song production is exactly the sound I look for in an album. Each track tells stories about life and takes you on an American journey. I hear many influences in their sound but at the forefront it rings with similarities of The Big Wu, Marshall Tucker Band and of course Railroad Earth. Many of the songs I could listen to over and over again leaving a smile on my face and a great feeling in my heart.
I caught up with Justin at The Crepe Place in Santa Cruz to find out the fate of TMT and what the future had in store for these talented and down to earth guys. I was quite surprised to find Lehe setting up his gear with the band and knew I had to stick around for the show. Something in me said, "this was going to be good". And it was!
Interview with Justin Munning, The Crepe Place, Santa Cruz

For those who don't know the band, what's the theory behind the music?
It's an Americana folk-rock sound. My twin brother and I started off ten years ago with our college roommates. We had keys, fiddle, electric and acoustic guitar, drums and bass. Since then the band has changed as the lineup changed. My brother is not in the band and Mark Gonzales from Chingus moved to Chicago this past October. But we are entertaining the idea of having Sean Lehe from Izabella in the band. This is exciting for everyone here tonight.
So you might say, the band is in a transition phase. How does that feel and what's the outlook in the coming months?
It's been interesting because I am the only original member of TMT right now. Knuckles and Jeff (the drummer and the bass player) have been in the band for six years so they are definitely part of the core group. Pat Blizinski joined us this past year and now with Sean in the mix, we all have this new boost of energy. We are realizing that we work really well together onstage and this is the best lineup we have ever had; definitely the freshest songwriting we have ever had. To be honest, there is a good chance we might rename the project to capture the newness of it because it's not all about Ten Mile Tide as it is all these new musicians. This might be the birth of a new project happening right before your eyes.
I am sure the goals looking ahead are similar to the old days, but what kind of band do you want to be?
I think the reason we click with Sean is that we have all been playing music for almost ten years. Our goals have changed these days but ultimately we just want to be playing great music. Under the right circumstances, we'd love to be playing 100 plus shows a year. Although, we don't want to be playing dive bars around the country every show. We are all interested in putting something together that is really well rehearsed and really well crafted. We have plans to all start an album together after our show with Hot Buttered Rum on the 18th. That weekend we will start laying tracks with song ideas and concepts. I am really interested in piecing it together which emphasizes everyone's talents but shows the strength as a collective band.
What are your influences? Who are some of your heroes?
Dylan is my big hero, along with the Dead and Railroad Earth.
How do you feel about San Francisco as a niche market and a community? Are the fans rising to the occasion and supporting music. Or do you find you have to travel and seek out the crowds?
When we started, TMT was playing a lot in San Francisco and then we found out that we could tour and do better in the Northwest and Midwest. We traveled for five years and did well all over the country. These days we all like being home and focusing on building something locally in California before national tours.
Riverstone is the latest album you did. How was that process and who worked on it?
That came out in '08 and we recorded the album in Rhode Island because we found a producer who we fell in love with. He is the one who recorded Dispatch and we have had a great relationship with those guys after opening up for the band at Stanford seven years ago.
What are your personal goals for the coming year?
I want to make another album that is really exciting and fun. With this group of musicians and the level of everyone's enthusiasm the possibilities are really limitless. I do feel that I have figured out the sound that we are trying to go for. When we started, everyone had different influences with a wide spectrum. Now, everyone is into the same music like The Band, The Dead and Railroad Earth.
Playing with Sean, every note he plays is the same that I would play. Pat on Keys just plays the perfect stuff so it's a lot fun.
Anything booked for the band in the coming weeks?
We have a show with Hot Buttered Rum at the end of February and a couple festivals coming up. Because this is new and our first tour with Sean, we wanted to do a few dates and then re-group, talking it over with the guys to gain some direction. Then we will take it from there.
Well thanks for your time Justin, have a great show tonight at the Crepe Place. Jambandfriendly.com wishes you a lot of luck in the coming year.
For more of Ten Mile Tide, check out: http://www.tenmiletide.com/