The Band "Bacon" Is Sizzling!
The word bacon is usually synonymous with fried egg sandwiches or BLT's. But, in the San Francisco Bay area, it's a band name for a bunch of guys who value good music and decent songwriting.
Everyone in the group morphed from other local bands and has been friends for a long time.
According to the bands website, "Bacon is a California Jam-Band. With influences in rock, jazz, classical, blues, country and funk, Bacon's eclectic flavors mix to form something indescribable—rhythmic with a fluid melody, incorporating structured improvisation, communicative self-indulgence and rockin' with driving dynamics."
On lead guitar and vocals is Ken Yamada who can shred with his instrument and is not afraid to wander into the crowd while playing. Yamada is extremely animated and completely present when performing. Listen to his guitar work on the song "Buskers" and you'll hear his clever lines and passionate solos.
Playing keyboards and singing in the band is Ryan Vandenbroeck who lends a unique element to the overall sound. Whether on Hammond organ, electric piano or jam-synth, Vandenbroeck can play it all.
On rhythm guitar is Robbie Planting who although is usually in the background for most of the set, is rock solid and in the pocket. Planting is humble and reserved, but, a strong member of the band.
Playing bass for Bacon is Brian Vandemark who is a multi-instrumentalist and well trained in music. Vandemark's bass playing is top notch and big sounding.
On drums is Jae Hendrickson who is perfect for this band – dynamic and not overbearing. Hendrickson is a bay-area musician and has been in the scene for many years.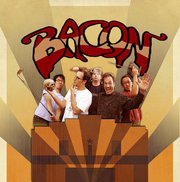 Considered a "month to month" band, the guys are content with letting the gigs take shape and playing to moderately filled rooms with their friends and jam-band family in attendance. If you like well written originals, high energy jams and tasty covers, then check out the band Bacon. You might even get a slice of the real thing at set break.
I recently saw the guys perform at the legendary Connecticut Yankee in San Francisco and spent a few minutes with the band backstage.
Interview with the band Bacon, February 11th 2012.
Brian, your bass playing was exceptional tonight. Comment about the onstage energy and sound, while having a great drummer in the rhythm section with you.
Jae and I were really rocking it tonight and fortunate to have Andrew Ferren on sax with us as well. It gives us a better breath of sound to work off of. We were feeling good tonight, everyone was moving around, having fun and the crowd was enjoying what we were putting out. When all that happens, I am a happy guy and really thought we played well the first set. Onstage I didn't have any qualms about the sound.
You're right, having Andrew on Sax really added an extra element to your overall sound. It seemed like he fit in really well. Ryan, how did you guys come to him?
Andrew plays in many bands around the bay area. I've seen him with Chris Zenardi's High Beam's as well as Left Coasting with Josh Atlas. So, you might say we are all in the same musician's network and see each other quite often. In fact, it's hard to miss one another with all the different bands and gigs happening.
Well, it sounds like it wasn't hard getting Bacon to come together. Would you say this lineup just morphed into what it is now?
Actually, that's a long story. Brian and the rhythm guitarist Robbie have been playing together for years. They used to belong to a band called Grasshoppers with a different keyboardist, a handful of drummers and our old guitarist Lance. At the tail end of Grasshoppers, Jae joined on drums and then the band became Open Space Project, which is when I came aboard in 2004. When Lance split in 2008, we started playing with Ken on lead guitar and the sound really changed. We felt the band name should reflect that change, so we all decided on having Bacon.
The song "Cohagen" is really fun Ryan. We were listening to it this evening before coming over here.
That was an instrumental song I wrote and wanted a funk style at the beginning. I wrote the riff originally and then came up with the Major 7th bridge. And, for whatever reason, the sound really worked blending those two ideas together. A lot my song writing happens at home independent of the other guys. I brought it to the band and we all took to it really quickly.
The crowd tonight wouldn't know it Brian, but you are a multi-instrumentalist. Talk about your early years and how you adapted to being able to play so many instruments.
I started on string bass in junior high school, then orchestra's throughout high school and college. I picked up electric bass later at some point, did a few years in jazz band and finally played in rock bands starting in my '20s. I also picked up a love for bluegrass and have played banjo for a long time. It's great, there are so many connections between banjo and bass. I bring a strong musical theory background to the band and have a love for music on so many different levels.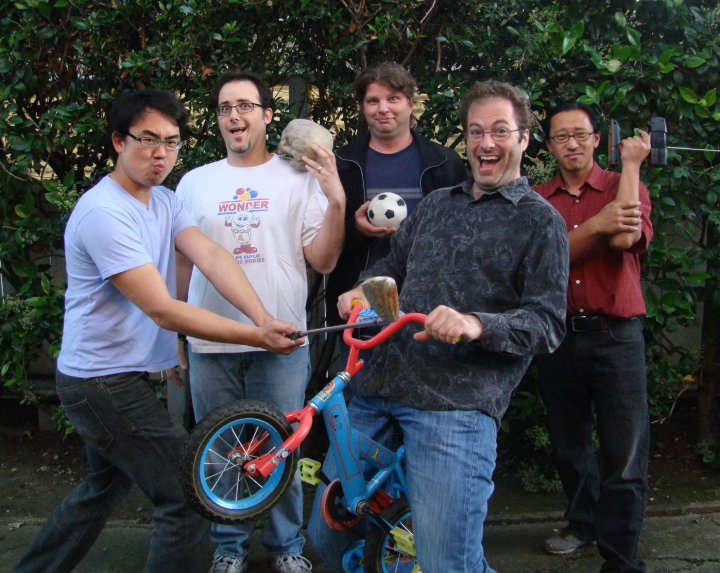 Ryan, what kind of band does Bacon want to be? Do you guys want to be a bay area favorite or venture out of the area for weeks at a time touring the Pacific Northwest?
Bacon wants to play to whoever wants to hear us? That's basically what it comes down to. For right now, we are just doing the San Francisco bay area circuit. We are playing the venues we know we can bring our friends and fans to. Sometimes we play Tahoe, but the band really goes where the love is. If it gets bigger, all of us would be extremely grateful. But, we are not really forcing the shows and playing to empty houses just for the sake of it – because a big thing to us is playing to an audience and reflecting on that energy that they bring.
You guys covered all the bases tonight, playing Phish, Bela Fleck, Steve Kimock Band, as well as your own compositions and touching on multiple styles of music. Onstage and through the songs, how are you hearing it? Both of you know the real versions. Ryan, I am curious how you interpret those covers in the live setting?
There are definitely some personal twists to all the songs. "Big Country" isn't arranged like the real version. We kind of said, "This is going to fit our situation" and composed it to how we wanted to do it. Same thing with "Gotta Jiboo". We like to cover songs and not push the envelope. In other words, I don't know if we will do that song again. We get a kick out of playing a cover once. One time we played "The Pina Colada Song" or "The Escape" at a bar called Omalley's. There is a line that references that bar name and thought it would be a great idea. However, it's not a song that we would want to whip out at every Bacon show.
I get it, thanks for the time guys. Good luck in the coming year. Have a great second set!
For more of the band Bacon, check out:
http://www.facebook.com/bacontheband