'Strange Arrangement' from Chicago, My New Favorite Band!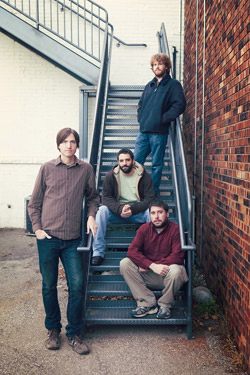 The Chicago jam-scene has established itself as a music mecca thanks to bands like Umphrey's Mcgee and the downtown Delta Blues clubs.
If a band is talented and has a great sound, they are bound to get noticed and connected with the right people. Strange Arrangement is doing just that. The guys are touring with some of the members of Umphrey's and recording with talented producers who know what's needed to yield top-notch albums. Strange Arrangement has amazing chops, is extremely talented and has a great story to tell.
The band got their start in high school, took some time off to study music, but reunited under the same name many years later. Fate has played a big part of their life and it's obvious that Strange Arrangement is headed for greatness.
According to the bands website, "influences include Phish, Herbie Hancock, Umphreys McGee, and Wilco. A Strange Arrangement show will take an audience through several different musical genres touching upon jazz, funk, rockabilly, soul, and progressive and psychedelic rock. Opening for National Touring Acts such as Future Rock, Outformation, The New Mastersounds, and Umphreys McGee as well as performing at large festivals like Summer Camp, Hookahville, Hoxeyville, and North Coast Music Festival, Strange Arrangement's original brand of dance friendly progressive funk has music fans taking notice."
I agree with the band bio and look forward to seeing their high-energy shows on the west coast in the coming year. On keys and vocals is Joe Hettinga who is a multi instrumentalist. Hettinga is extremely humble, passionate about his career and lucky to have had music in the family growing up as a young child.
On drums and new to the band is Steve Sinde who is a perfect fit for this lineup. Sinde has amazing chops, perfect time and can steer this ship with ease. Listen to any song and you'll hear a sensitive touch, but also a hard hitting and driving beat. On guitar and vocals is Jim Conry whose tone is clear, concise and creative. Whether its rhythm or lead, Conry is right there with his guitar work taking the audience on a musical journey with his instrument. On bass guitar and vocals is Kevin Barry who is a monster player and the driving force of the rhythm section. Barry's sound is jazzy, but also big sounding and full. Listen to the song Creston and you'll see Barry's talent shine through right from the start. He's got that John Entwistle and Oteil Burbridge tone that is so sweet.
It's no wonder other well established bands are teaming up with Strange Arrangement and taking them along for the ride. This band clearly stands out among the rest and it shows in their recordings.

The title track Polygraph from their new album is explosive. The song builds with excitement and then takes off like a rocket ship 13 minutes in. I hear so many influences, but the feeling is unique and well planned. The guys stretch out in this one, show-off their improvisation skills and keep it super-tight in the delivery. The Route is also another favorite of mine which has catchy harmonies, funky bass lines and meandering solo's. Hearing this song, it's hard to focus on anything specific; everyone in the band lends something great and a real treat to listen to.
I spoke with Joe Hettinga recently about the band's new album, their upcoming tours and his amazing life as a musician. I found out that Hettinga and the guys from Strange Arrangement are traveling with multiple bands this summer and definitely relishing in the glory. There's no question that this band is in a perfect location, nestled in the heart of Chicago. The phrase "Right place at the right time" is very appropriate for this group and audiences will be seeing Strange Arrangement at festivals and clubs in the coming year.

Interview with Joe Hettinga, Tuesday August 2nd 2011
You are heading out tomorrow with about 9 shows in multiple states. What's in store for the next couple weeks and what do you love about a tour like this?
Actually, our tour or string of shows started last week. The band went to the east coast for the first time with Digital Tape Machine and Strange Arrangement. It's been amazing with exciting new places and people that have no idea about our music. It's been a great response with crowds getting into the music and the live performance. Digital Tape Machine is a large band with Joel and Chris from Umphrey's McGee, Kevin Barry on bass from Strange Arrangement and myself on keys. We also have Marcus Rezak from the band The Hue and Elroy who is a DJ. With Dan Rucinski from Land of Atlantis it makes for a full sounding band. Luckily, the booking agent from Umphrey's is lining up shows for us. We'll be heading out to California to do some gigs and also New York for an after-party show to promote Umphrey's CD release. That will be at The Brooklyn Bowl on September 9th this summer. I love going out on the road with those guys and more tours with them are planned.
The name Strange Arrangement, how did that come to be?
Our roots go all the way back to high school. Our good friend Mitch Manz who was playing percussion back in the day came up with the name for us. I think it had a good ring to it and everyone liked the name. We took off for 6 years during college where we all did our own thing, but came together later on. When we reunited, the name and band were picked up right where we left off. We tried to think of other names, but we thought Strange Arrangement was the coolest.

It sounds like you have been playing music for a long time. What were some of your first experiences as a child?
My mom was a studio musician for jingles and commercials. She would take me with her on some of the sessions and I watched what was going on intently. She also taught piano lessons in our home, so I was around kids studying music all the time. It made me want to play, but my mom never forced me to take lessons. I heard the music from my mom and my dad taught me how to play guitar. Then I got a drum set which was of course followed by piano. Once I learned how to play, I made it my main instrument.
How has the jam scene been developing in Chicago for you?
We have been playing in and around Chicago for three years now and in the last year, crowds have been getting bigger. Of course, in the beginning it was all friends and family. We usually did opening slots for national touring acts, but then started headlining our own shows doing two sets. We played Martyrs, The Double Door, The Subterranean and places that are around 400 capacity. But now we have WXRT's backing and they are a big radio station in the Chicago area. They did a 40-minute interview with Strange Arrangement right before our last show which sold out the venue. It's all so exciting and the radio station along with Jam Productions are the two major forces. It's always been a dream of mine to work with big organizations in Chicago putting big shows on.
When Buer & Manz left, how did you guys respond? Did you guys roll through it or was it part of the plan?
Those two left early on and then the band just broke up for many years. It wasn't in the plan, it kind of just happened. Those guys moved out to Colorado and started their own band called The Dones. I went to school and all of us were doing our own thing. In 2005, all the bands we were in weren't doing well for us. They weren't as dedicated as we wanted them to be. Everyone agreed to move back to Chicago and try to do it for real while before, it was just for fun. After getting back together, we had new songs, lived together and brought it back strong.
Where was the new album Polygraph recorded and who worked on it?
That was done at I.V. Lab Studios in Chicago and it's where Umphrey's does most of their work. Manny Sanchez is the producer there and someone we really enjoy working with. It's in an old bank vault which was converted into a small studio. We did it all in two days; then I edited it and did some over-dubb's at home. We worked on the album in for one day in the summer of 2009 and then finished it on another day in 2010. In between, we toured a lot, wrote new songs and then went back in to the studio. About 6 months later it was finished and we have plans to do another album with Manny Sanchez producing the record.
How did the Polygraph originate? Who had a hand in coming up with the idea?
The idea for Polygraph came from our tour manager Alan Osborne who thought we should write a song about a lie detector. Then I wrote everything else in the song. The Route he also had a large part in and the two of us do a lot of collaborating together. Much of the new stuff he and I are working on.
What's the song "The Route" really about?
I came up with the first line, Don't let it get you down/There's still enough to go around. What I was saying was, in essence, when shit hits the fan in life, you can always look to others for support and love. Alan is a goofball with his lyrics so it kind of went in a different direction but that's how it all started. I love him for that and his commitment to the song writing process.
What dynamic does your new drummer Steve Sinde bring to the band?
The chemistry just clicked after one rehearsal and knew we wanted to have him in the band. We thought he played with a lot of dynamic's and he's also sensitive to sound. He played with a definitive type of style where you can tell what he is going to do and he does it; which is something I love. He even does different things with our songs every night, but I always think it seems well thought out. We love his feel on the kit.
Talk about stepping onstage before a show. Is it something you look forward to and what's important about the whole process?
It is really important because every night is different and every stage is different. When I get into a venue, I really enjoy it especially if it's a new place. I want to be comfortable in my zone so I can be creative and inspired. I take my shoes off as if playing in my living room. Right now I am making additions to my rig so it is getting bigger. With 5 keyboards and now a computer it is a lot of work, but also exciting; whatever it takes to put out the best show possible.
What is the band planning for the next year? Is there anything specific that you guys are setting your goals on?
The California run will be two weeks on the road doing a bunch of the Strange Arrangement/Digital Tape Machine shows. Omphrey will also be there with Chris Poland from Megadeth. Joel, Kris and Jake from Umphrey's are in that band. It will be a three-band bill doing a bunch of shows. We are playing two sets at The Bear Creek Music Festival in November. Next summer we'd love to do The Hangout and All Good Music Festival. We did the Big Up this past weekend and it was a lot of fun.
How would you describe the band? Do you use high-energy, jam band to tell people what you do?
Yes, I definitely use the word jam, but tend to lean more towards a "jazz-infused song writing jam band". That's what I tell people and we definitely put a lot of energy into each show. We aren't playing a lot of ballads and want people to have fun when they see us perform. It's kind of like a party at our shows. On Halloween, we are playing two shows with the Twin Cats from Indianapolis who are really great.
Thanks for your time Joe, have a great year. Jambandfriendly.com supports you guys and will see you in California.
For more of Strange Arrangement, check out: http://www.strangement.com/band.html