Jim Lewin with Great American Taxi. Getting The Praise He Deserves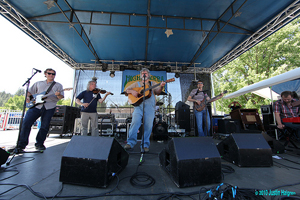 Santa Cruz California has its fair share of musicians
all slugging it out in the clubs and all vying for a spot in the limelight. Some are content with staying in their immediate area and receiving the fame that only the local community can give. Others venture out of their comfort zone and actually get to tour around the country, playing bigger venues and performing at festivals in front of thousands of fans. Jim Lewin is one of those stars who has left the nest and is becoming a household name in the jamscene; someone that you will be hearing a lot about in the coming months playing lead guitar and singing for The Great American Taxi. The guys are embarking on several tours in support of their new album "Reckless Habits" with multiple shows across the midwest and pacific coast. Since Leftover Salmon went on Hiatus, The Taxi has been zig zagging around the country trying to play as much as they can.
For the last twenty years Jim Lewin has played guitar for The Harmony Grits bluegrass band in the Monterey and San Francisco bay area. In addition to his own group, Lewin also plays regularly with country legend Lacy J. Dalton, historic mandolinist Frank Wakefield, folk icon Mary McCaslin and local favorite Sherry Austin . He has performed or recorded with big names such as Jack Cassady, Gillian Welch, and John Reischmann. Jim is a flat picker and can shred on acoustic guitar causing your head to spin while watching him play. On electric guitar Jim soars above all the rest and has a professional and polished style that wants to be heard.
According to his website, "Jim's style combines rock, country, blues, jazz, and burning bluegrass flat picking. His years of adventures in countless bands and musical situations shine through in his soulful playing and singing, and his seemingly infinite repertoire." I had the honor of playing with Jim in the band "is" also based out of Santa Cruz. I watched in awe onstage back then as Jim took high powered guitar solo's and sang fast paced songs that our band gladly followed along with.
Jim and I caught up at his house in Santa Cruz that was something right out of Laurel Canyon from the late '70's. Ten foot high windows give anyone who enters a panoramic view of the marsh that flows in from the ocean right behind the house. Jim led me back to his studio and the two of us talked about the jam scene, Jim's impressive career and my new project Jambandfriendly.com.
Jim, Thanks for giving me this interview, it's good to see you again! Sorry we didn't get a chance to do this up in Quincy. How many High Sierra's have you played?
I think it's about eight now and I was there for the second one at Leland Meadow's with The Harmony Grits on the main stage.
How was that year different than it is today, what comes to mind, from the beginnings?
It was very formative in the second year, it was a new thing for everybody. I felt that music festivals were new to that audience, it was a time that there were already bluegrass festivals going on and I came out of the Dead scene. A lot of us were Deadheads but the Dead was changing. They were still pretty good but soon the Dead were getting too big and it wasn't as much fun to go and the band wasn't playing as well later on. Me and the older deadheads started dropping out of that and High Sierra and some of the other festivals around the country that had sprouted up in the eighties started to be an alternative. To be a hippie in the late seventies, early eighties there weren't that many shows that you related to. The popular scene was like Nine Inch Nails and we didn't listen to the radio. We were all wishing we were around in the 60's, there wasn't anything else. So when the Dead became this gigantic cumbersome icon of a band I think High Sierra and some others allowed a home for the whole scene to grow and develop so that we can have Jambandfriendly.com where now there is a huge nation of music with bands of every flavor and style. There's support for each other to tour. There was really no way to tour in those days, it was really difficult because the clubs had hard rock and punk bands. Hippie music was not that fashionable at that time. Leftover Salmon was a big part of creating what now is the jamband scene, and allowed young people to have a hippee-ish alternative lifestyle growing up through the bands.
The way you joined The Great American Taxi was a unique situation, can you tell us how that happened.
The previous bass player of the Taxi Edwin Hurwitz and I both went to college at UCSC in Santa Cruz at the same time around '79. We played in bands together and had a good time but he went to Berkeley School of music after Santa Cruz. Which I applied to and was going to go; so I visited all my friends there and found out that they weren't really loving it that much and although I wanted to do more intensive training I also was having this pull to come back to Santa Cruz where I had a new band forming. My bluegrass band Continental Drifters was going to turn into an electric band so that was a real solid local band for five years that I see as a precursor to Taxi. After sitting in one night, the guitarist decided to leave which opened up a spot so I joined, just like that.
This weekend you have the Oregon Country Fair, then the String Summit, The Tahee Musica Festival, south Lake Tahoe, northern Calfornia and then back here in Santa Cruz finishing up with Dead on the Creek. So the taxi is definitely logging some miles, how is life on the road for you.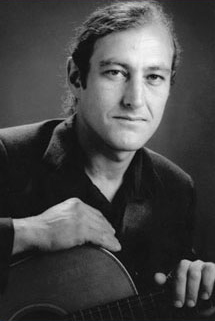 It's pretty fun, gets tiring sometimes and I miss my family a lot. Aside from that we are having a lot of great musical experiences and making new friends. Vince has been doing this a long time and knows everybody and he is a very outgoing person so being in the band you get to meet everyone.
What about young bands out there, what are you listening to now in the jamscene.
There's so many good bands out there, but Dr. Dog I'd like to see. I like Cadillac Sky, they are up and coming, not really jamband but Bluegrass and traditional. Also, Elephant Revival is another band I like and they are our good buddies.
What about The Stringdusters? Did you get to hang with them recently?
I love their band, we did a show with them in Dallas. We come across them every once in a while, I don't know them personally very well but I admire them and their picking
What about recording in the fall?
We are getting ready to record our next record this winter probably sometime by Christmas. We might do it again with Tim Carbone who produced our last one from Railroad Earth who we love and did a great job. But we are also thinking of doing something different for fun to shake it up. We'll also be working with Todd Snider soon and proud to be his backing band. Not everyone in the jamscene know's Todd, he's a little more Americana but he is a natural singer songwriter; he does really funny and interesting songs with a twist. We are hoping to bring Todd into the jam scene and High Sierra.
Is the Taxi linup solid?
Yes, really solid. Taxi has had people come in and out of the taxi at times but you can't really say what's going to happen; that's the nature of a cab. But for now the five guys are going strong and really working well together.
The jam community has always loved Leftover Salmon, I think from the Big Meadow stage at High Sierra the crowd was loving the Taxi as well. Congratulations, have a great year! I would love to come to some of these shows. It looks like you have a great summer planned, thanks again. It's always a pleasure Jim.
Thanks Tuck!
Check out Jim Lewin at: www.jimlewin.com