The Congress from Denver Colorado is Young, Talented & Ready For The Big Time!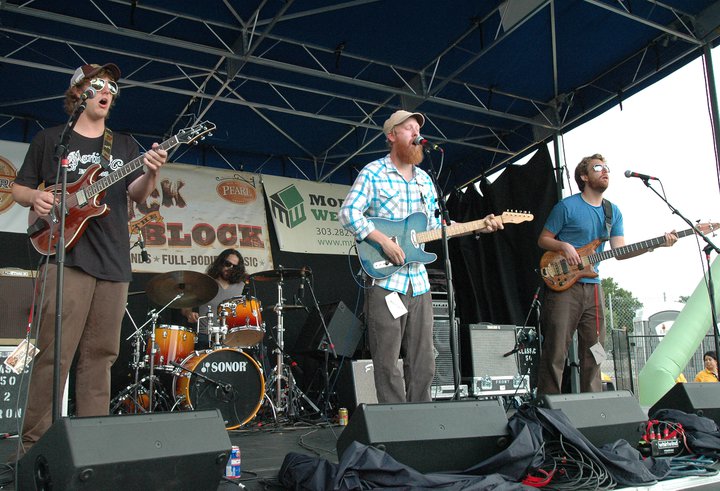 Playing at The High Sierra Music Festival every July 4th has become a coveted honor for new bands emerging on the scene.
Musicians have to be doing everything right even to be considered on the long list of acts who work all year long preparing for their time in the spotlight. Gone are the days when new bands could play on the Americana Stage or apply in open submission hoping for the call that they had made the list. Nowadays, side stages have been eliminated and only the select few make the grade.
Case in point: The Congress from Denver, Colorado made it on the bill this year and wowed audiences with their heartfelt vocals, amazing talent and innocent youth. The guys are in their mid 20's and off to a great start establishing them as a national touring act. The current lineup is only in its second year, but has all the elements of success necessary to make it to the next level. With Jonathan Meadows and Scott Lane out front, it's only a matter of time before this group gets recognized, starts attracting a loyal fan base and feels good about playing 150 shows a year.
After their two appearances on the Big Meadow Stage, it's definitely possible that audiences will be lining up to see them perform in the coming months. Songs have that widespread appeal, unique diversity and big sound which could easily be played on major radio stations around the country.
The guys shared the stage early Sunday morning at High Sierra with Ruthie Foster and her band for the highly respected gospel set. With a packed crowd singing and dancing along, the stage became their church with the band leading the sermon through its songs. At 10:30, it was a time to give thanks, worship the music and hope for another great year.
Then at 3:30 that afternoon, The Congress got to perform by themselves showing everyone their creativity, passion and energy onstage. I watched intently as they weaved through their set flawlessly and interacted with the audience who wanted to dance, sing and celebrate the day.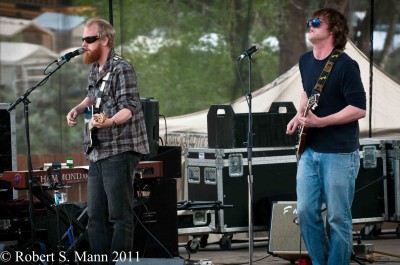 On rhythm guitar and lead vocals for The Congress is Jonathan Meadows whose voice has that Soul only a few measure up to. Meadows is the perfect front man for this band and to me, a mixture between Martin Sexton and Chris Robinson. I think if Meadows is going to make it to the big time though, he'll have to perform every show like it's his last, especially at the big festivals. Have no fear, Meadows is a rising star in the making and one that we'll be reading a lot about as the band climbs the ladder to success.
On lead guitar and vocals is Scott Lane who not only shreds with his instrument, but also has an incredible stage presence like Pete Townshend. Lane brings a huge dynamic to this band and I am eager to see him grow as an accomplished guitarist. His energy and creativity are addictive and it's clear that Lane feels every note when playing along with the band. Watch any live video online and you'll be amazed by Lane's playing ability. He has a long road ahead of him, but, Lane is young, extremely passionate about his path and has faith in the partnership between himself and Meadows. The two are a great team and show no signs of weakness.
On drums currently is Mark Levy, whose playing is dynamic and just the right touch for this band. Levy has "chops" like a pro, but isn't overpowering in his solos or back beat. Whether its funk, Rock or slow ballad, Levy can play it all. Listen to any song and you'll hear his versatility in the background over and over again.
On the bass guitar now is one of the band's buddies from the east coast Todd Herrington, who is a great player and always in the pocket. Also playing bass for The Congress is Dwight Thompson who fills in for the guys on specific shows.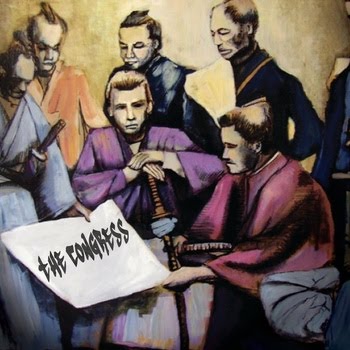 The band's latest self-titled release is a masterpiece from start to finish. The first song "Loretta" is reminiscent of The Band, but also has that British- Invasion newness and big sound to it. "Back Where You Are" is a slow ballad that will make you weap with sorrow at Meadows' passionate and inspiring vocals. Everything about this track is perfectly placed and professional. "Minutes" is one of those cat-in-the-night, broadway-esk, half-time tunes which highlights the bands talent and creativity in the Jazz realm. The horn section and back-up vocals in this one add a huge element to the song and give it a sense of bigness. "Ten Years Gone" is another slow ballad, but something you might hear out on the dusty prairie of Texas or swampy bayou of Louisiana. Meadows' vocals again are passionate, vulnerable and out front. Towards the end of the song and throughout Lane's solo, the intensity soars to a level like Government Mule and holds the final note as the sound fades away. "Queen Mary" has the same themes scattered throughout the song and right there with its consistency. In the last track, "Long Way To Go Home" I hear a mid '70s, country-rock influence with a catchy hook and memorable chorus. It's one of those songs that audiences might be singing to themselves on the way out of their concert. The song is simple, yet direct and I like it!
This summer the guys are touring the states, hitting some of the big festivals and playing around their home city of Denver. The band and I spoke Saturday afternoon at their campsite located between the Funk'n Jamhouse and Food Court at High Sierra. At the time, family and friends were scattered about with The Congress taking time to recharge for the two sets the following day. It was a pleasure getting to know the band and crew at such a special event.
Interview with The Congress Saturday July 2nd 2011
Congrats on your place here at The High Sierra Music Festival. How was your gig in Santa Cruz this past week on a holiday weekend?
It was what you'd think with a lot of people away for the holiday, but actually, it turned out to be a great night. We got to meet Trevor Garrod through that and he ended up playing the next night with us at The Boom Boom Room in San Francisco.
What about the band name? How did you come up with that and what is the significance?
We were sitting around one day and realized we needed to come up with a band name quickly. When we were starting out in Colorado, Scott was already living there and I was in Richmond Virginia. The guys who were recording with us in the studio sessions were either from Virginia or scattered somewhere else. That first year he had moved out we had played together two times and hence we met as frequently as the congress did in Washington. There's no connotation or political agenda to it, it's just a name. I read an interview yesterday in Jambase where Brendon Bayliss from Umphrey's McGee said, "We have the worst name in the music business, but we just have to get past that, get over it and deliver great music". For me, a name is a name and it is what it is. The Congress is a meeting of the minds, in general it signifies a group approach.
You guys have had a phenomenal first year. How did the band and this lineup come together?
The only original members are Scott and I. Mark joined the band about 7 months ago. The bass player (who is playing with us here at the festival) just started about a month ago. His name is Todd Herrington and he is a friend of ours from Richmond. Todd also plays with DJ Williams Project, The New Belgians, Modern Groove Syndicate and a bunch of other acts. He is also featured in a European bass magazine for his amazing talent. In 2009, Scott moved from Richmond Virginia to Denver for music school and to work on the business end of things. But, before he left, we had been running an open mic in Richmond after the band I was playing in broke up. That was called The Grove which was deeply rooted in heavy, improvisational, psychedelic rock. Scott and I started writing music together right after that and were able to lay down a few demo songs in the studio. But then Scott left for Colorado and used the tracks to get his foot in the door there. Over the course of that year, I wasn't playing music at all and ended up working a lot. I wasn't healthy or using my creative spirit at all and Scott knew it. He suggested I come to Colorado and it took about a year until I had a one way ticket and my book bag. The first day I got there, Scott had a gig lined up with some local guys and was great for letting me hang out for about 7 months until I got my feet on the ground. We thought the gig went well and booked more shows. Ironically though, I went to California for a week and had considered staying on the west coast. But, I bought a ticket back to Denver and then got really serious about keeping the gigs going with Scott. We recorded the first album soon thereafter, our self titled compilation.
The song Minutes, what point of your life were you at and what was going on at the time?
I was at a low point of my life having broken up with my long term girlfriend and just trying to cope with where I was at the time. I have never been one to have the word depression in my vocabulary. The emotions and hardship are just what we go through at that moment to get to where we are today. I wasn't playing music and at a tough point with Scott living down the street from me. One night I wrote the song trying to convince myself to man-up, be strong and get through it.
Scott, when did you write the song Loretta and what was going on in your life at the time?
I had just moved to Colorado and was taking classes at the local university. All the practice rooms at school had upright piano's and every day I would sit at the piano and try to write songs. Loretta isn't about anyone in particular. I guess it was influenced by everyone who was around me at the time.
Jonathan, what is the theory behind the music? How do you guys write music and process life?
We try to focus on two things: the first is the craft of song and all that comes along with it, whether it's the song writing, the recording and everything in between. We also focus on our lives around us and how those elements impact us. We want to open up all the emotions and experiences that happen around us. We try to transform that in the music and out to our audiences.
What have the shows been like in Denver and what other bands are you running with? Are there other groups that you are teaming up with and doing double bills?
The Denver shows have been great and we have been playing a bunch of amazing events and festivals. The band has also been playing great venues like The Bluebird, Gothic Theater and Cervantes. Each show gets better than the one before. We did a pre-Wakarusa show with a band called Kinetix which was the first pairing with another band that is on the same track as us. We opened for Jackie Greene, Grace Potter and The Rumpke Mountain Boys from Ohio.
Alex, since you are the bands manager, in your own words, how would you describe the bio of The Congress?
At the top of our Bio, it says three genre's: Rock, Americana and Experimental. So it's like rock & roll folk meets psychedelic experimental with a little Rhythm & Blues. The guys are so young and new, the sound is still coming together and this band really doesn't know yet their full potential and what they are capable of. When I describe it to people I like to say, "Rock & Roll with a shit load of soul".
Mark, were you in bands that had a local following in the Denver or Colorado area? What do you bring to this lineup that you had before?
I grew up in Denver, left for a few years to go to school on the east coast but came back because the music scene is thriving in Colorado. The band I was playing with at the time was based out of Denver and playing all the time. I got to see every aspect of the music scene and it's clear that people are out to see good music. Part of the allure is not only the outside way of life but also the great musicianship in Colorado. Before I was in The Congress, I got to see the guys and knew they were a good band.
Where do you guys go from here after the festival?
We go back to our hometown of Denver and play around the state of Colorado for the month of July. We like the weather there and on the west coast. But in the Southeast we played Wakarussa a month ago and the heat was so unbearable. You couldn't be sitting during the day in the sun or sleeping in past 7am it was so brutal.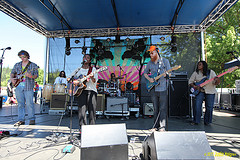 What's the plan for the next year? What are the bands goals? Do you want to be doing 150 shows per year and spending a lot of time on the road?
All we want to do is play music and not do anything else; that is the goal. However many shows per year we have to play in order to do that will be totally necessary. If it means 150 to 200 shows then that's what we will have to do in order to live the way we want to live. All of us want to be in the studio as well.
Sounds great guys, Jambandfriendly.com supports you and wishes you a lot of luck in the coming year. Thanks for your time!
For more of The Congress, check out: http://thecongressmusic.com/