Vince Herman "Still Going Strong"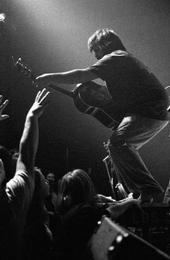 The name Vince Herman carries a lot of weight in the JamScene.
We have all caught a show sometime in our music career and have danced hard to the sounds of Leftover Salmon. I think their blend of Cajun, Calypso, Jamgrass, Jugband and Southern Rock has given the
band a reputation as one of the most fun and exciting bands to ever hit the stage. Since 1989, Leftover had an amazing fifteen year run touring the country playing countless shows before going on hiatus in 2004 and I got a chance to see some early ones.
Now Great American Taxi (Vince's current project) has graced us with their presence and is proving to audiences that they can still put on an unbelievable show. At the core of the Taxi's music is a sound that is reminiscent of Colorado and Nashville all rolled up in one. I hear a polished and professional sound, one that will put you in a good mood or leave a smile on your face. One of their new songs "American Dream" is one that you could hear over and over again without getting board or becoming stale.
Vince has with him a band that fits like a glove and compliments his vision for delivering a fun and heartfelt performance. On lead guitar and vocals is Jim Lewin from Santa Cruz who brings his own flat-picking, guitar-soaring sound and rivals other guitar greats anywhere. On bass guitar is Brian Adams who is tight and in the pocket. Chris Sheldon's drums aren't over powering and just the right touch to give the band that fluid train sounding feel. On keys and vocals is Chad Staehly a master at the piano who commands a strong presence with his singing . Occasionally the band has the honor of having Barry Sless sit in on pedal steel.
My interview with Vince at The High Sierra Music Festival was one of those right place at the right time" encounters that just worked out for the best. I went to speak with Jim Lewin, the Taxi's guitarist but he had left after the set; Jim and I had played together briefly in a band a while back and jumped at the chance to catch up with him. But with Jim gone, this left Vince and I standing together in the green room just staring at each other. I said, Hey Vince, don't suppose I can get a few minutes with you for an interview? Immediately, Vince said in a southern drawl "Sure, of course" and the two of us sat down for a chat.
Vince, you guys tore it up out there. Thanks for an amazing set!
Thanks, we had a lot of fun!
Please tell us where you've been recently?
We've been just about everywhere, driving around in circles kind of like them Stringdusters you know just driving around in our own dust it seems.
I understand you were just in Telluride?
Telluride was great, the next day we were up in Gurdwood Alaska just outside of Anchorage. And then we played in Montana the day after that, which was great. That's been kind of what the last year has been like, touring hard with back to back shows in numerous states across the country. We also put out a new record called "Reckless Habits" which we are all fired up about and we have been touring in support of that. We've even been on the radio. We're just trying to get the word out about The Great American Taxi!
What's next for the Taxi?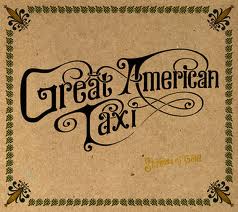 Well tomorrow we play here again at the festival and then the following night we play at Rancho Del Rio, Colorado. So sometimes we have these 20 hour drives we do but I sure wish we can do it on wind power alone especially these days with the energy being what it is, it's a touch equation for a band to figure out.
How did you meet Jim Lewin?
Our old bass player Edwin Hurwitz and Jim were college roommates back at the University of Santa Cruz and Jim came out to sit in with us one night and our former guitarist Jefferson Hamer was moving to New York City and doing some other stuff. So, the spot opened and Jim jumped onboard the Taxi. It's been super fun and we love playing with him.
Vince, were you here in the early days of High Sierra?
I think we figured out that I was at the fourth which was up in Bear Valley. I remember there being a little bit of snow left. Now, we are at the 20th anniversary and this festival is one of the best around! By the way, I have declared marshall law. I have declared myself the mayor of High Sierra and I will be issuing orders throughout the evening probably culminating in that naked kickball game early tomorrow morning. At which point the band will be playing out on the mainstage. It's rumored that Nathan Moore will be rallying up some sort of militia to take over and kind of end this marshal law thing that is in effect. But remember "Moore is Less"!
Vince, last question I know you gotta get going. How is the twenty year anniversary different than the early days of High Sierra.
Well, it's early in the festival but there's no dawn rolling piano's thru the fog or taking over the radio station yet, and there's no fishin for hippies. You ever gone hippy fishin here? What you do, you get a joint and you put it on the end of a fishing line and cast it out on the sidewalk and someone goes to pick it up and you yank it. Sometimes you can catch the hippie and he aint letting go.
Good luck Vince, thanks for your time! Jambandfriendly.com supports you and wishes you luck in the coming year.
Thanks Tuck!