Rob Barraco, Keyboardist with Dark Star Orchestra talks about the last twenty years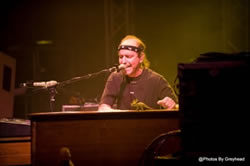 In the early '90s and deep in the heart of New York City, there existed a live music venue that helped shape and define the jam band genre today.
 A club that was more than just about the music; a place dead heads and concert goers went to see new bands, participate in activism based events and catch up with friends they hadn't seen since the last show or tour.
The Wetlands Preserve in  the east village of Manhattan was our community that hosted up and coming acts as well as weekly bands that we all knew and loved.  Groups like Dave Mathews Band, God Street Wine, The Spin Doctors, Tiberious, Juggling Suns, Blues Traveler and of course the Zen Tricksters graced us with their presence and left lasting memories in our hearts. It was an innocent time filled with amazing music and I am grateful to have been a part of it.
For a musician at that time, playing to a large audience was an easy feat.  Crowds were hungry for good music and Rob Barraco was at the center of it all playing keyboards in the Zen Tricksters for 11 years.  With his tightly wrapped bandana around his head, a driving force in the band and positioned on stage right, Rob played regularly at the Wetlands for most of that decade.
Rob is a passionate, humble, and a professional musician who has paid his dues, studied hard and has been given the opportunity to play with the best musicians in Rock & Roll.  He is a "musician's musician" and someone I am grateful to have met.  Rob's resume is impressive and lists some big names on it, all intertwined on the jam band family tree.
Rob has played with Phil Lesh and Friends, The Dead, Dark Star Orchestra, Chris Robinson & New Earth Mud, the Zen Tricksters, Red Flannel Hash, and The Dragonflys. He was the permanent keyboardist for Phil Lesh and Friends from 2000 to 2003 and has been in the band's line-up more than once. He also played keyboards (alongside Jeff Chimenti) when ex-members of The Grateful Dead reformed as The Other Ones, and then as The Dead.   Rob has played keyboards and guitar since the age of 6 and has been pursuing his musical dreams without any hesitation or question.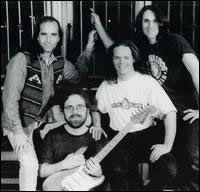 For over ten years in the '80s and early '90s he was keyboardist for The Cosby Show and its spin-off, A Different World.  Rob toured with R&B performer Freddie Jackson in the late '80s before joining The Zen Tricksters.  Rob spent eleven years touring and recording with The Tricksters, recording two studio albums and playing live shows across the US. Their second album, A Love Surreal, was noticed by Grateful Dead bassist Phil Lesh, who wanted Rob and Trickster guitarist Jeff Mattson to play a series of shows in San Francisco and then tour the country, double billing with Bob Dylan. That band included drummer John Molo and Allman Brothers guitarists Derek Trucks and Warren Haynes. The following year Barraco became a member of the Phil Lesh Quintet, including Lesh, Barraco, Molo, Haynes, and guitarist Jimmy Herring.
In 2002, Barraco joined with the original members of the Grateful Dead for two shows at the Alpine Valley Music Theater, and then toured with them as The Other Ones in 2002 and 2003. In 2004, he joined Chris Robinson's New Earth Mud. In 2005, Barraco toured with Dark Star Orchestra after the death of keyboardist Scott Larned, which proved to be a bitter sweet entrance into the band. Sometimes, irony has a strange way of working itself out and those opportunities don't come around too often.
Rob has also collaborated with Grateful Dead lyricist Robert Hunter on seven songs recorded on his 2007 solo release, When We All Come Home.
Rob's playing style has that bounce and elegance to it like Bruce Hornsby and the jazziness and grace like Keith Godchaux.  Rob can also play the organ like a pro and he is extremely confident and animated onstage.
When I found out that DSO was coming to town, I took the opportunity of meeting Rob to try and come full circle with my time at The Wetlands.  That period in history will always have a special place in my heart and I will never forget the music we saw, the sweet smell of body odor in the room and the familiar faces that came and went through the years.  Ask anyone who went to The Wetlands when contemporary jam band music was getting its momentum and they will say great things about the vibe and energy of an institution that will never be forgotten.
After sound check at The Catalyst, Rob and I walked along Pacific Avenue in Santa Cruz to a wine bar to grab some dinner.  Fans stopped Rob along the way showing their support and appreciation for the performer who answered their questions graciously .  Rob and I reminisced about the old days, life on the east coast and the amazing qualities of Santa Cruz California.
For almost one hour, I spoke with Rob as old friends do, sipping fine wine and talking about the realities of being a gypsy of the road.  Rob feels content with his place in the world as a performer and artist.  He is someone who has no regrets and will have stories to tell for the rest of his life.  I honor Rob Barraco for the memories he provided me and for the times I danced hard to the music of The Zen Tricksters.
Interview with Rob Barraco, April 5th 2011 Santa Cruz California
First off, congrats on DSO and your tremendous success.  How is The Four Winds tour different than ones you have done in years past?
Well, most importantly, Jeff Matson has been playing with us now for a little less than a year.  It's takes up to 12 months for a member to join an established band before it is seamless and the band works well together.  We are now speaking telepathically onstage like we did in the Zen Tricksters.  The music is taking on a whole other dimension and it's going to places where these guys have never been before. I know how Jeff plays and I know what he is capable of.  I lived with him for 9 years and we're both wrapped around each other.  It is really a revelation to be taken on this journey this way, without taking anything away from our last guitar player John.  But, he didn't get it the same way, in terms of where I am coming from.
It's no mystery that you and Jeff have great chemistry and I remember that connection 20 years ago.  Take us back emotionally to the Zen Tricksters era. Was that always something you thought would have longevity or did you consider it a spring board for something else?
When I joined the band, I was at a point in my life where I felt I needed to get back to my roots, so to speak.  When Jeff offered me the gig, my x-wife was horrified and asked, "why would you want to play with a dead cover band?"  I told her that the Zen Tricksters wasn't actually a dead cover band and Jeff really liked my original music.  So, it's an opportunity for me to do something.  However, the band in its form back then needed to be tinkered with and I knew it.  It was my mission to tinker and tweek the group.  Eventually, we widdled it down to a four piece band and it became a lean, mean rocking machine.  I really felt the band had something special.  However, for one reason or another all the members in that band were really frightened to take the leap of faith for what was necessary to get to the next level.  I got frustrated because that's all I ever wanted. I was struggling financially. I wanted to be a full time musician and was in the middle of a divorce. I put a lot into the band and after 11 years, once Phil called and asked me to join him on a steady basis, I had to go. It was a heart wrenching decision because I put so much energy into the band.  But, I really felt that I put all that I could and the band went as far as I could take it.
When you look back on those 11 years, what magic moments stand out in your mind as being some really great memories?
Yes, so many, but, one that stands out is from the 25th anniversary of the Trips Festival.  There was a great light show and the energy was so cosmic.  Another one was from the time we played with the legendary sax player David Murray.  It was like playing with a bag pipe player on acid.  Another one was closing the Oregon Country Fair one year.  If you haven't been, it's the coolest festival ever and an institution in its own right.
How did you get hooked up playing in the band for the Cosby Show?
I was playing in a jazz band called Eclipse and we were recording in a studio out in New Jersey.  I was in the piano booth and looked up into the control room and saw this older black cat had walked in and sat down with his face pressed up against the glass.  Nobody knew who he was.  We ended the tune and walked in to meet him.  He asked if we wanted to do some TV work and we weren't sure what he meant. So, he introduced himself as Bill Cosby's music director and was mixing a record for the program in the next studio.  The Cosby show had just finished its first season and we knew about the show, but hadn't seen it.  I asked the guy what was wrong with the players he had currently and we were told that they wanted to make a change.  Bob our lead guitarist gave him his card and the guy took off.  We didn't think anything of it and one week later, Bob calls us up and says, "You are never going to believe this but Stu Gardner called, you and I are booked on a session next week to do the theme song for the next season.  We couldn't believe it, I walked into this studio with many heavy-weight studio legends, all of them I had been hearing about my whole life.  I ended up doing it for 9 years and it was really great.  Although, it was the most frustrating gig because you are in a room with the greatest studio musicians in the world playing for about 4 seconds at a time.  It was insanely frustrating.
These tours that you are doing these days, is it a love-hate situation or a dream come true to be out on the road for months at a time.
I have come to the realization that I am a gypsy, there is no other way to look at it.  I always lament not being home when I am on the road yet when I go home for a week, I end up jonesing to be playing and out touring.  Yes, it is a love hate relationship.  I love my bandmates, they are wonderful, they are easy to get along with and it's like any family. When you are around people as much as we are around each other in that tin can traveling down the road, there is bound to be fireworks sometimes. I am so grateful for Lisa our singer, because she cuts that male angst a little bit.  She is like my sister.
Does the word "rock star" ever come into your mind? Or have you ever considered yourself one?
When I think of rock stars, I think of Bob Dylan and Mick Jagger.  That level of living is so alien to me, I wouldn't even know how to think of it.  You are talking about guys like Phil Lesh and Bob Weir.  The other side is the ego thing, I find it really offensive.  Ego and music really don't mix and people think "oh you are such a rock star, you must have such a huge ego".  It gets in the way with everything I hold sacred.  I am humbled on a daily basis at the fact that I know nothing when it comes to music and life.  I am still learning all the lessons that I need to learn and musically I still work at my thing every day for hours, even on the road.  Because I know that I only have a limited time on the earth to learn what I need to learn and I am never going to learn it all.  There are people who think I am a rock star and ones who treat me like a rock star.  But I always try to make it my mission to disarm them and not ever come off like one. I don't want people to think of me that way, I am just a guy who likes to eat salad, drink wine and play music. I just happen to be lucky to be playing with talented musicians and I have worked really hard to get to this place.  And I continue to work hard to be here.
What about the different keyboard era's of the Dead; Pigpen, Keith, Brent, Bruce and Vince.  Are you drawn to one over the other?
I grew up in the Pigpen era and my first time seeing the band was with him, and the only time I saw Pigpen.  But all the stuff we were listening to was from the '60s.  Keith was a huge influence on the change from an organ to piano.  I have an affinity to those particular time periods and I love the fact that I have been given the opportunity to do the Pigpen thing.  I have embraced it fully, doing the Lovelights with all the raps.  The Good Lovin' versions with all the improv verbal sections.  His whole persona, Pigpen was a blues master. Talk about a hard living guy.  At the same time, I have to have the Keith sensibility which is right up my alley because he was a jazz pianist before he joined the Dead.  I can relate to that in a big way.  The Brent thing was a challenge for me for two reasons:  first, I was thrown back on organ for the first time in decades.  I had to re learn how to approach life as an organ player, which is very different than playing the piano. Then add the fact that he had a great voice and in my opinion one of the best voices in the band.  To try and emulate what he was doing has made me a much better singer.  I have grown leaps and bounds since I had to start doing this and grateful for it. Brent was brilliant but never appreciated his keyboard playing in the later years when I saw them.  By '90, he had really grown on me and then all of a sudden he was gone.  Vince, I never got him as a musician.  I never liked his voice all that much but his piano playing got better as time progressed.  Now Bruce Hornsby, that's a whole other chapter.  Bruce is a musician's musician besides the fact that he has a sweet and powerful voice.  The guy is one of the best writers in a whole generation. You add his genius playing and I just can't say enough about him.  I will never forget hearing him for the first time driving in my car and The Way it is came on the radio.   There was a piano solo in the song and on the radio for that matter, which really stood out.  Piano had vanished through the '80s and morphed into synthesizers.  All of a sudden, Bruce brought it back.  Here's this guy playing acoustic piano like a mother fucker and I was so happy to hear it.  I went out and got the record, researched him and listened a lot to his stuff.
Without going into so much detail, what is the process for picking a show, rehearsing and doing a full performance from beginning to end?
Only Rob Eaton is in charge of setting up the tours.  It is an arduous job, but, he has every show DSO has played, in every city and in an extensive library.  He looks at a town we are going to play, picks one town out of the tour, see's what we have done the last three or four times in and then chooses something different. But then he has alternatives, then he starts looking night to night to see what shows would work for every town.  And also not repeating the same songs every night is important.  I couldn't do that, it sounds ridiculous to me.  Rehearsing is a minimal thing, we are so well versed in all the different era's that there isn't much to do.  There are however, period specific things that get talked about at rehearsals.  Like today with the Cosmic Charlie we have been doing a lot of the '69 version and it's very different.  It is up to the individual musicians to do their homework.  You have to know what you are doing and it falls hard on me because I have to wear about 6 different hats.  I really have to know the style of each keyboard player, and on a particular night I have to be two guys.
Is there anything missing in your life or do you have any regrets about the way things turned out?
I haven't met a person yet who doesn't have regrets about things they have done in their life.  But, obviously we can't go back in time and change anything.  We can only take the situation we are in at that moment and live it to fullest possible.  I have had as coolest a career as anyone I know and I have played with all my heroes that are living, I have played every venue that I have ever wanted to play, except one or two.  I got to play with Phil Lesh, he was my mentor. He was the guy I tried to emulate. His whole twisted way of looking at rhythm and key centers completely changed the role of the bass player in that band.  When you listen to someone on a record and then actually get to play with them in the moment it's a whole other experience. There is a different interchange going on when you are listening to a record. He taught me a lot of lessons when I played with him.  I will cherish that to the day I die.  I am extremely satisfied to be in the place I am, I would like it if DSO was playing at a higher level as far as comfort level.  Musically, however, this band is playing at a level that not that many people get to play at.  I have no complaints.
What were the early years like for you musically?
I got to see The Allman Brothers in their heyday and of course Pigpen. I saw the '73 and '74 tours with the Dead and the wall of sound.  Then we all thought the Dead broke up, but, came back in '76 and we all toured.   I was a junior in college in the late '70s and got to see the Buffalo and Ithaca performances.
What about the future with any side projects or other musical goals?
One of the great things about playing with DSO, now that Jeff is playing with us is we have started an original trip.  We have one song that is out now which Robert Hunter wrote the lyrics for called Run Mary.  We are working on tunes on the road because we all live in different places in the country.  We have to do it on the road but with the advent of laptop recording we are able to do it. It is a slow moving project, but at least we are moving in that direction.  I have a CD I put out that I wrote with Robert Hunter that just got signed with Dead.net and Rhino Records.  I am hoping as we get more original music together and we want to do those shows, they would be specially announced shows where we would open the show with a set of original material.  Or do a show with all original stuff.  Jeff Matson has so many originals.  Right now I can't get involved with too much but we'll have to see what happens in the near future.
Thanks for your time Rob, have a great show here in Santa Cruz.

For more of DSO and Rob Barraco, check out:
http://www.facebook.com/rbarraco
http://www.darkstarorchestra.net/NEWSITE/HTML/dso.php