Chroma: Bringing Color and Music to the Universe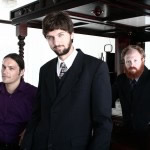 Chroma is a Jacksonville based jam band trio that is gaining momentum in the southeast.
Since 2003, the group has been playing in and around Florida and opening up for big name acts. We don't see this power-trio configuration too often in the jam scene, but the band has a good sound for only three guys. And a good story too!
According to their website, "the band is a bunch of musicians who hold their roots in melodic song writing and progressive psychedelic rock while gracefully stepping into the realms of bluegrass, barbershop, and classical music".
On drums and vocals is Alex Hayward who contacted jambandfriendly.com for this interview. Alex' playing is spot on, he keeps impeccable time for the other two guys to follow and Alex can sing like a pro. On bass and vocals is Paul Miller who adds a strong element to the rhythm section. Paul's sound is big and reminiscent of that funky style from the '70s. On guitar and vocals is Adam Mantovani who has a big job to do filling in the gaps without keyboards or horns in the mix. Adam's playing is melodic, well thought out and I am eager to see him grow as an accomplished musician in the coming years.
Chroma has a unique sound that touches on multiple styles of music. Songs are interesting, polished and well executed. Their latest release, "Turn the Lights On" is a nice production that flows like a movie script. Tracks on the album either have a funky bounce to them or contain a dark, broadway-esk, cat in the night theme intertwined throughout each one. Overall, they remind me of Blues Traveler from the early '90s, Sublime, The Black Crowes and Ben Harper.
I called Alex for our interview and the guys were already kicking off the year playing a festival and performing a show with Dumpstaphunk. Alex is humble, eager to get his message out and happy about his place in the world. It is nice to hear three guys passionate about their career and optimistic about their future. Chroma has what it takes in terms of playing ability and already ahead of their time.

I have never seen the band perform, but I would like to see Chroma venture west of the Mississippi. From their recordings and videos online, Chroma is one of those viewing bands that takes you on a journey with their music. They are a band that tells a story and creates a mood in every performance.
It is a pleasure supporting Chroma and we are thankful for the phone call.
Take us back for the jambandfriendly audience. Talk about how the band came together and the early days of Chroma.
Originally, the band was a quartet. The keyboardist, myself and the bass player all met in junior high school and were childhood friends. Our original guitarist was also a buddy but went to a rival school nearby. The three of us in the current lineup have known each other for a long time and actually played in a Ska band back in the day. When we graduated high school, we all agreed that if college didn't do what we wanted, we'd play music again. In my second year of college, I transferred to my bass player's college and shortly thereafter our keyboardist transferred to be with us as well. We were all studying jazz at The University of North Florida. The guitarist joined and started jamming with us in 2003 which is really when the band formed.
We toured the east coast all the way up to Maine and down to south Florida. In 2006, we moved to Philadelphia after considering New York, but it made sense to start there. We were in Pennsylvania for a year and then ended up going to New York to record our second album. At that point the band took a turn- the guitarist decided to go to school and left the band. The keyboardist also wanted to leave to do other things. One of our buddies who we knew from school had already moved to the city and he took over on guitar. That was about three years ago.
In 2008, we moved back down to Florida because it was cheaper, closer to the Carolina's and we had a following in Florida. These days we are doing mostly the southeast with occasional stretches out of town. We play festivals and local shows when we can. We just finished our third studio album Turn The Lights On and are all excited about the release.
How did the name of the band originate?
There is a children's book called the Phantom Toll Booth and it has a character called 'Chroma The Great'. He was a leader, responsible for making the sun rise every morning and bringing color to the universe.
Are you guys content being a trio with drums, bass and guitar? You don't really find that in the jam scene to often.
It has its pro's and con's. We all tend to be busy players, so with a trio it gives us a lot of space. Everyone has their own voice and each instrument is very separate from one another. We can do what we want but as long as we are in the same key, at the same tempo, everything is good and nothing will clash. When you throw a keyboardist or another melodic instrument we really have to change the way we approach the songs. We enjoy both and with the right sound guy everything works. It also leaves an open spot for others to sit in like Miguel our sax player who also plays keys.
On your album, every song is less than five minutes. How much do you guys stretch out onstage in the live performance?
For our first record, we let it go and one of the songs was more than 20 minutes. We sent it to Homegrown Music and their critique was "we can tell you are an amateur band because you have a 24 minute song on your record". That hit us hard but, in reality it doesn't matter that much. When we play, we have a mix. Some of the songs are meant to be 3 minutes and then there are some that are 8 or 9 minutes. As a trio there is only so much you can do before it starts to get stagnant. Currently, we don't do the computer, we are straight up instruments.
The song "6 Short Years" resonated well, it has that fun, bouncy Sublime feel. Give us some background on that song.
I wrote that for my wife who I have been together with for seven years. She had lightly questioned me on why I had never written her a song. I usually write as it comes and this song is a relationship song. I wanted to get across that it doesn't matter how much I love you, I still question the relationship and myself. The last section though implies that I am ready for more and another 6 years.
I hear a lot of dramatic themes throughout the album especially in Bitch's Bill. Where does that come from?
It's funny, the two song writers in the band are myself and Paul, the guitarist. For me it's very obvious which songs he did and which ones I wrote. His tend to be darker and have that dramatic feel. We all grew up listening to broadway and classical music. We are all just musical lovers. I really don't think there is any music that we don't appreciate. Even the pop stuff on the radio, to me it has its place. Things like classical really intrigue me and I am curious about what's behind those writers. The songs are almost like Halloween and contains a minor key feel.
How is life on the road for the three of you and crew? Do you bounce back after a couple of shows in a row.
We have to work on touring and being together a lot of the time. We know each other and know each other's habits. We can poke fun at the other guy and its OK. We do things to keep ourselves fit which helps travel and touring. Ultimately it's about the music and we can talk through the problems. The fact that we get to travel and play music is really great for us. Others that we grew up with are intrigued that we get to do what we do.
Speaking of traveling and playing, where are you this weekend and what festival are you at?
We are only playing Friday night at this festival which is half jam-band and half dub-trance. Our set is going to lean more to that dark, electronic sound and we have a wide variety of songs. There is a zip line safari going through the grounds and there is a camping area in Aura, Florida. Then Saturday we have to leave and head to Valdosta to play with Ivan Neville's Dumpstafunk. That one is sold out and will be a great show.
And then what are your plans for the spring. Where are we going to see you?
This year, we are still mostly going to be in the southeast. But, will head to the northeast in the spring doing FloydFest in Virginia. We may head west and currently in talks with new management. But, we will have to wait and see.
For your die-hard fans or folks who might have been there, what are some magic moments that you remember as really standing out?
This past fall we did a run with DJ Logic and had a night that was our hometown CD release party. There was something special in the air and it was the first time we worked with DJ Logic. He was another percussion instrument, jamming with us and getting the crowd pumped. There is a clip on the website from that night and for weeks, people kept coming up to us and saying it was a great night.
We also had one gig that was memorable. It was when the super bowl came to Jacksonville and P-Funk threw a party. We learned a few of his tunes and were going to be the backing band. It was supposed to start at 11pm but we started a little earlier at 9. And then we started playing again without him and finally at 1:30 he shows up after the band had been at it for hours beforehand. He comes onstage and does his thing. The place was rocking and the whole place was so into partying because of the super bowl. Right as he finished, John Popper came up onstage with us and rocked the house. Instead of taking a break, we just continued on because people wanted to hear more music and ended up playing for about 6 hours with minimal breaks. I remember my hands were so soar from playing drums the next day but I was excited at the same time.
Well, it sounds like you will hang onto those memories for a long time and your band has something great. I wish you a lot of luck and continued success in the coming year.
For more of Chroma, check out: http://www.myspace.com/chromatime

http://www.facebook.com/#!/pages/Chroma/63948576390