The Band "Poor Man's Whiskey" To Perform at The Fillmore Auditorium on 11-11-11. Don't Miss This One!
When the stars align and the calendar has consecutive numbers listed in a row, something amazing is bound to happen. On November 11th (11-11-11) Poor Man's Whiskey will take the stage at the legendary Fillmore Auditorium.
This is the first time PMW will headline the venue and joining the guys for the performance will be Michael Kang (String Cheese Incident) on fiddle and Sean Lehe (Izabella) on guitar. For those who haven't heard, Lehe is now a full-time member in PMW and he replaced Eli Jebidiah, now "Huckle" who left to pursue his solo career.
If that wasn't enough, Ten Mile Tide will be opening the night, doing their blend of Americana Folk-Rock. The guys in TMT have been around the San Francisco bay-area music scene for years and are the perfect support band for the Fillmore gig. I'd say, this is one of those "don't miss" shows which will be remembered for a long time.
Poor Man's Whiskey will perform Dark Side of The Moonshine on this night - their bluegrass interpretation of Pink Floyd's Dark Side of The Moon – which according to their website hasn't been done in San Francisco since 2008.
On banjo, keyboards, harmonica and vocals is Josh Brough who has been with PMW since it began. Brough is a multi instrumentalist who has amazing stage presence and the backbone of the group. I'd say he will miss "Huckle" dearly, but, Brough is probably eager to grow musicially with Lehe in the coming months.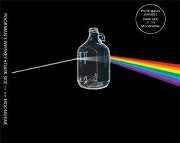 On bass and vocals is Aspen Stevenson who is a solid player and always in the pocket – whether on electric or acoustic bass, Stevenson is right there with the groove.
On drums, suitcase and vocals is George Smeltz who is flawless with his playing. Smeltz isn't overpowering and can steer this train with ease. Even in campground jams, Smeltz lends support on percussion, tapping his suitcase with the beat.
On guitar and mandolin is Jason Beard who also has been with the band since it began. Beard is a "musician's musician" who is wrapped around every element of the business. Whether it's writing, recording and producing solo albums, Beard has achieved tremendous success at this point of his career. He's humble, straightforward, intelligent and he knows exactly what he wants out of life. Listen to his solo album "Leaving Home" and you'll hear eloquence and grace in every song. This work of art should be played on Sunday mornings, during coffee with all the windows open, creating a peaceful and melodic place for everyone around to hear.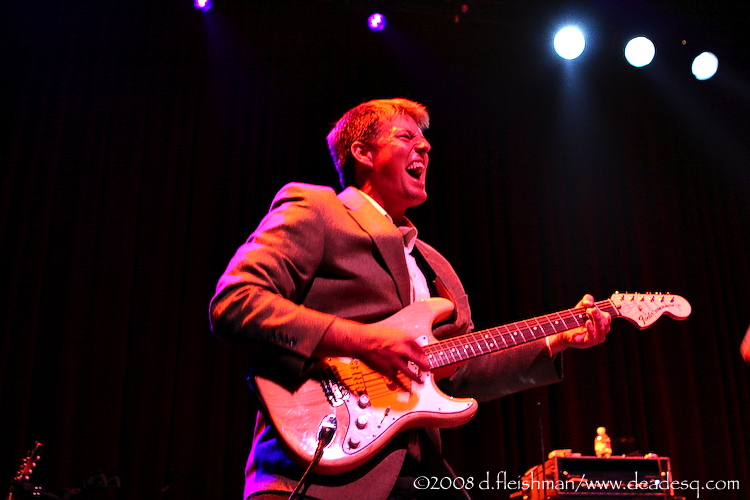 Beard and I spoke on the phone recently about the upcoming shows in and around the bay area. PMW will be heading up to The Hangtown Halloween Ball in Placerville - a three-day music festival with Railroad Earth and countless other acts performing over Halloween weekend. Then the guys head to San Francisco for the enormous 11-11 show at The Fillmore. At the end of the year, the band will play a New Years celebration at the very intimate Hopmonk in Sebastopol to finish off an amazing run of shows.
We'll have to wait and see what 2012 brings for Poor Man's Whiskey, but there's no doubt, this band is headed for greatness.

Interview with Jason Beard, Saturday October 15th 2011
First off, congratulations on an amazing run with Poor Man's Whiskey. 2011 has been a transition year for you. Talk about the change with Eli Jebidiah leaving to take on Huckle and Sean Lehe taking over the guitar spot.
We knew a few years ago that Huckle was looking to go solo and at the time we were in another transition. Actually, we've had a few of them over the years. But, we convinced Huckle to stay and at the beginning of this year he was really feeling like he needed to move on. We had a meeting to figure out when would be a convenient time to do that. Fortunately, for us, Izabella was going on a hiatus and doing fewer gigs. We immediately thought of Sean from playing at festivals and considered him one of the best guitarists around. After some talk, Sean was open to joining PMW and half way into the year we made the transition. It changed things because Sean's style is very different than Huckle's – some of the jams and places we go musically, it's fun to explore new, sonic territories now. We have had several great years with Eli or Huckle as he is now called and he brought an enormous stage presence to the band. Josh and I knew him from the Santa Barbara days.
Speaking of Santa Barbara, it seems like many of the bay area musicians including ALO, Poor Man's Whiskey and Jack Johnson all came out of the scene there. What was that experience like coming of age with so many talented guys around?
In hindsight, looking back on that time, it was a music mecca. Jack was in a band called Soil and wasn't even the lead singer. All of the ALO guys were in Jango. We would go out on a weekend and there might be four or five bands playing in front yards. We had a place on Del Playa Street in Isle Vista and one day a band asked if they could play in the front of our house. It turned out the band was Rage Against The Machine and they needed a visible spot to play. Isle Vista was a little island and a fantasy environment.
Obviously, Jack Johnson went a little further than anybody else, but most of the bands are still going strong. It was almost like a little fraternity there with everyone still meeting up at festivals or shows 15 years later. We will always have that connection.
You have two solo albums, "Leaving Home" and "Scrapbook Melodies" that you have completed as well as an ongoing side project.
I have a bunch of acoustic instrumentals where I do a lot of finger picking. Leaving Home was done about 8 years ago which is real melodic and pretty. My other side project Jed is with my friend Ed Flores from the UC Santa Barbara days. We have the honor of having guest musicians with us as well. Brian Horn from Hot Buttered Rum and George on drums play with us sometimes doing electric rock.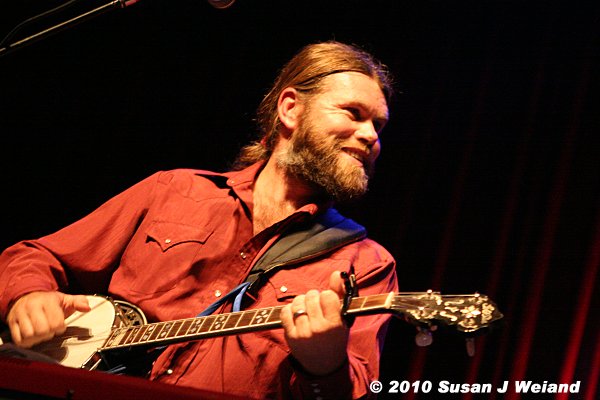 Josh has a side project with his brother called The Brough Brothers which is a great band. There's something magical about two brothers with amazing harmonies.
On the album "Leaving Home" you have instrumentals with unique names like "Hot Buttered Popcorn".
All the songs on the album were written specifically for people –like the one you mentioned. It was done for my mother who loved to eat popcorn. Some were for weddings and special occasions. Since she enjoys bluesy picking songs, I wrote it with that in mind. Other songs like Leaving Home or Growing Old have this combination of emotions, (happiness and sorrow) that are mixed together. When someone moves away from home, they are excited to go on a new adventure, but also sad about leaving something behind. Much of that music had a melancholy feel.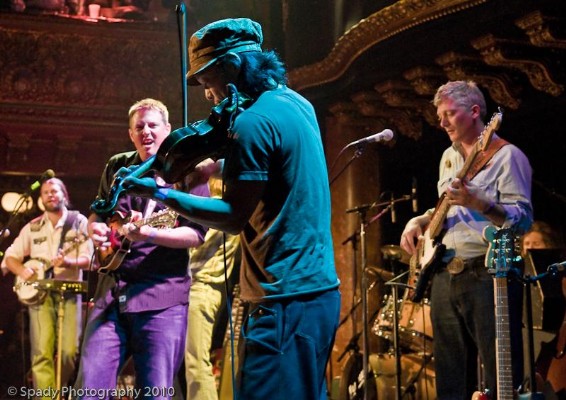 Michael Kang will be sitting in with you guys in San Francisco. How did that come together?
We had Kang play with us at The Great American Music Hall about a year and a half ago for the Old & In The Way Tribute. When we do Darkside we'll bring in special fiddle players; we've had Joe Craven sit in with us. For the Fillmore, we were thinking of Kang and it just made sense with the String Cheese Connection to bring in additional fans. We were also thinking of Tim Carbone from Railroad Earth which is ironic because we are doing the Hangtown Halloween Ball. Kang said "yes" and we are so excited to play with him again.
Will you guys be recording anything new in the coming year or hitting the road with the new lineup? What are your plans for 2012?
When we did the Darkside album, we bought recording gear and placed it in my house – so it made it easier financially without having to go into a studio. That can be a big expense multiple times which adds up. Our general plan going forward is to record an album each year. In 2012 we'll be doing two though because Josh and I are huge Kate Wolf fans and want to do a tribute record. At the Kate Wolf Festival this year we did a set of her music, but the way we wanted to do it and the performance went over really well. Then later in the year, we'll do an original album.
As far as touring, we are hoping to get beyond the west coast and maybe venture east for extended tours. Until now it's been hard to do that with children and some of the guys having day jobs. We have been going out for long weekend runs, but next year the band would love to do two weeks on the road. The lineup right now is really going in a positive direction, so anything is possible.
Additional links:
Poor Man's Whiskey: http://www.poormanswhiskey.com/

Jed: http://web.me.com/jasonbeardmusic/jed/Home.html

Jason Beard: http://jasonbeardmusic.com/

Josh Brough: http://www.facebook.com/pages/Brough-Brothers-Music/118424044904240