Zach Deputy: "Exploding on the Scene!"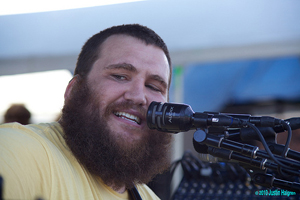 At this year's 20th High Sierra Music Festival, everywhere I turned people were saying the name Zach Deputy.
In the campgrounds or out in front of the stages friends were asking if I had seen Zach yet or caught the high energy dance set at Big Meadow. It seemed like Zach's name was everywhere and he had instantly won over the hearts of die hard music fans that came to dance and see music.
I was told Zach's music emulated Keller Williams but had a more soulful, funky quality that got people dancing off their feet. From the sound of his voice I might have thought Zach resembled Stevie Wonder or Michael Franti, but after meeting him I was quickly corrected. Zach has this lovable teddy bear, twenty-something, hippie type quality but totally commands a strong presence whether onstage or out in the crowd. He is completely open to the world around him, looks well traveled but young and naive at the same time.
On Sunday, I saw his last set on a makeshift U-Haul trailer stage about 10 feet in the air, high above the crowd. A few hundred people were having a funky dance party out in front, the vibe was positive and from the first note Zach had everyone in the palm of his hand. Everywhere I looked, people had smiles on their faces, and soaked with perspiration from dancing.
Zach is a one-man band, who loops sounds and grooves throughout each song. The outcome is true 'Jamband' incorporating multiple styles of music including funk, caribbean, reggae, country, pop and blues. Zach has mastered the art of bringing acoustic guitar and electronic instruments together with his near perfect voice. He knows how to keep a groove going but also knows when to stop so the sound never gets too old. Zach is someone I had to meet, one of those musicians that you catch early on in their career and you get to say, "I knew him when!" Zach and I met in his travel trailer which coupled as his office and storage shed. I sat on a crate next to the desk, guitar cases were to my right and camping gear behind us. The only light was from the laptop sitting in front of Zach. Cute girls were hanging outside the trailer and his tour manager was in complete control of the situation. A little merchandise table stood beside us complete with cds, tour cards, and photos.
First off, Congratulations Zach on an amazing weekend at High Sierra!
Thank you, it's a pleasure to be here.
It is obvious from your expressions onstage that you are having fun since you have a smile on your face the entire set. Are you grooving on the crowd? Are you loving what you are doing? Please fill us in on the Zach Deputy 'Perma Grin'
A little bit of both ya' know. I can't say it's all myself because it would mean nothing without the people out there. I am smiling and happy as can be because of the moment that we are sharing together and I feel that this weekend was a magical moment.
It certainly was! I noticed that on your tour schedule you are kicking off forty- one shows after High Sierra. How is life on the road? Is it easy, is it challenging, do you love it?
It's hard because you miss family and you miss the comfort of the people who know you most. But that being said its amazing being on the road with my road family. I've got a very good crew and we are super tight, we go through ups and downs together. It's a journey ya' know, I relate it to getting dropped off in the middle of the jungle and finding your way back home. Yeah you might think it's crazy but at the end of it all, you are going to have so many stories and so many awesome memories when you get back.
How come High Sierra and the JamBandFriendly community just found out about you?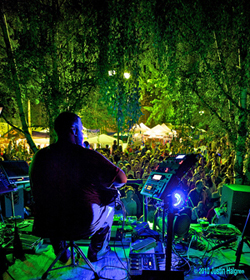 I'm just a pup, I just started ya' know. I have been touring now for a little over two years and when I started touring nobody knew who I was and for the first year we were playing to only ten to fifteen people in attendance; playing these shows and grinding them out. But, fifteen turns to twenty, twenty turns to thirty, thirty turns to sixty and before you know it there are a hundred and twenty people with us. Everywhere we have gone we have seen this exponential growth at a rate that is just so fast and exciting. But we have done it one fan at a time, I guess that's why nobody has heard of me over here. But I love it that way, we were just talking about this festival and it's going to be one of the last times in this part of the country that we play for this many people that do not know who I am. And so I was really soaking it in and enjoying this moment cause its one of the last.
Yeah, we know. We saw you. Which cities across the country are off the hook? Where has it been extra fun for you?
So many it's hard to tell, but up in New England I kill it. I feel a lot of love up in the northeast and the funny thing is I felt like I grew bigger up there than the south where I am from, like in a short period of time. Ya' know but that was my plan to get out of the south and head north.
What city are you from and how old are you? Just for the record Zach!
I am from Savannah Georgia, Hilton Head South Carolina area. I just turned twenty eight like three weeks ago.
Is Zach Deputy your real name?
Yes, real name!
This afternoon's set you are on top of the trailer, did you see the crowd loving it and grooving it?
Yeah, I think I had the best seat in the house today. I could see everybody and it was at an awesome site right at the intersection where the grass field and main stage road come together.
Your tour manager gave me two live recordings from this weekend but what about studio albums?
I have two studio albums; "Out of the water" was my first one. It's a cool mellow album and there are some really good musicians on it. Sam Sims who played with Michael Jackson, Bette Midler and Whitney Houston is on bass guitar. Sonny Emery played drums and he is one of the greatest drummers in the world. He's played with Steely Dan, Earth Wind and Fire, Doctor John, Bruce Hornsby. Mose Davis played keys and I believe he was with the Isley Brothers. My second album was funny because I recorded it the day after all my gear got stolen in Paramus, New Jersey. Paramus is like that Surburban Sprawl that Newark goes and feeds on and steals stuff from and takes back to Newark.
Modern Music. Who do you like, what bands have you seen out there that you are digging?
The people in the jamband scene, our scene honestly I like to go see them live more than listening at home. I feel that's the one thing that sets this scene apart is that it's meant to be heard live. The last album I bought and fell in love with that I wanted to see live was Nora Jones "Come Away with me".
It's obvious, But What about Keller?
Um Keller, you know everybody asks me that. I thought I was the first person in the world to do beat box and sound looping with bass lines. I've been doing this for ten years now and remember going to Bonnaroo about five years ago and seeing Keller and being like 'OK I am not the first. I guess I am going to have to climb a bigger hill now because I can't get by just on being the first to do looping and all that'. Until that I had never heard of him doing it for many years.
I gotta tell you Zach, your timing is impeccable. The way you get a groove going and the way you know how to kind of bring it to a close just when the song has said enough. That's really cool and we noticed a lot of influences; someone even said yesterday's set was completely different than today's. And yesterday they didn't even know who Zach Deputy was. From afar, while I was working hospitality at the Vaudeville Tent I heard a carribean dance party set. Today was more of a Stevie Wonder Disco funk set. People were like this is completely different. You gotta know that you made a big impact at High Sierra this year. And I so thank you for your time. Jambandfriendly.com supports you and wishes you luck in the coming year.
Photos by: Justin Halgren